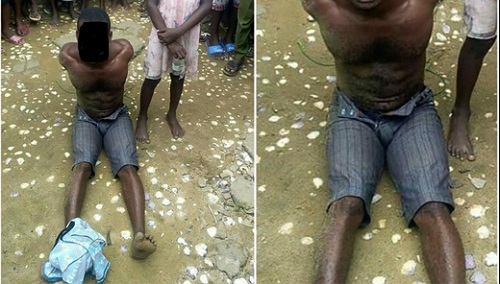 Policemen in Lagos state have arrested a man identified as Okechukwu Obi after he reportedly inserted his fingers into the private part of his neighbour's 7-year old daughter.

He was arrested, charged before a Lagos court for sexual molestation and rape, and then remanded in prison custody. The incident happened at Ikotun area in the outskirt of Lagos where both the defendant and the victim's parents reside.

According to PM News, the suspect reportedly lured the victim into his room apartment and locked his door from inside and forced her to his bed. He reportedly pulled her pant and inserted his fingers into her private part till he was satisfied.

Thereafter, he allowed her to go but warned her not to tell anyone what he did. However, the victim told her parents what happened; how Obi took her to his room and did what he did. The parents confronted Obi but he denied doing such.

However, the suspect admitted that he actually inserted his fingers into her private part but insisted he did not penetrate her. He was charged before Ogba Magistrates court for sexual assault under the criminal code. He pleaded not guilty.

The presiding Magistrate, Mrs Davis Abegunde granted him bail in the sum of N500,000 with two sureties in like sum. He was remanded in prison custody pending when he will perfect his bail condition. The matter was adjourned till 18th of August, 2017.