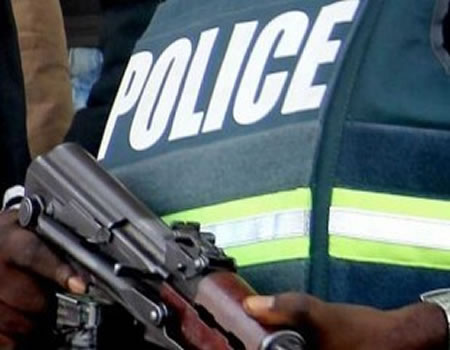 It was a shocking revelation on Monday at the headquarters of the Osun State Police Command, Osogbo when a 39-year old woman, Mrs Omotayo Salawudeen, confessed that she had sexual intercourse with her late husband, Alhaji Salawudeen Hakeem, before killing him.
Speaking during a chat with journalists after being paraded by Osun State Commissioner of Police, Mr Fimihan Adeoye, Omotayo, who described her husband as caring and responsible said "he did not offend me, but I was just mad at him."
She stated "we have been married for 17 years, we are blessed with three children aged 17, 15 and 12. He didn't offend him, I was just mad at him."
I choked him with pillow, after having s3x and Dolapo stabbed him to death with knife. I regret my action. I didn't know it would feel this way."
The housewife, who was not sober over her dastardly act, maintained that it was just her desire to kill her late husband, stressing that "I hired Oladapo Dolapo to help me kill my husband at my own desire."
Omotayo's accomplice, Oladapo Dolapo, (24) said he actually stabbed the late Salawudeen while Omolayo covered his head with pillow until he died.
He stated that "the suspect (wife) contracted him to punish her husband by killing him, with a promise to give him whatever he requested, if the operation was successful," adding that Omotayo enticed him to commit the crime by promising him a befitting accommodation and other benefits.
Speaking with newsmen, the Commissioner of Police, Fimihan Adeoye, explained that "one Engineer Salawudeen Adesina Jimoh of number 3, Engr Adesina Salawu street, Osogbo came to the station on May 12, 2017 and reported that on the same day at 3:00am two unknown men entered into his brother's house located at 11, Adeniran Street, Alleluyah Estate, Osogbo and stabbed him to death with knife and nothing was carted away."
According to him, "a team of police directives and patrol men went to the scene where inscriptions were found on the wall of the deceased house, including "No Price No Pay, Aye Axe and Forgiveness is a sin."
Adeoye added that "Oladapo Dolapo was first to be arrested in connection with the murder of late Salawudeen Hakeem and investigation by the Police revealed that Omotayo did not only hire Dolapo, but actively participated in killing her late husband, Salawudeen.
He, however, assured that the case would be charged to court as soon as investigation was concluded
Other suspects paraded by the Police include Friday Augustine (28), Ojo Tifase (19) and 60 years old Augustine Adepegba who were arrested as suspected armed robbers with two unregistered Bajaj Motorcycles, single cut to size barrel, damaged local made pistol, four empty sell of AK 47 ammunition and one cutlass recovered from them as exhibits.