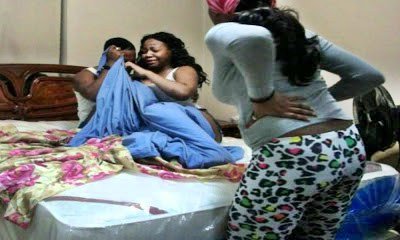 A popular Church Pastor has been given his
marching orders after he was found sleeping in the bed of a female church secretary.
Pastor Kudzai Makusha of the Zimbabwe
Assemblies of God Africa Forward in Faith
(ZAOGA), who was allegedly found sleeping in
the bed of his church secretary identified as
Theresa Kundishora last week, has been fired
by the authorities of the church.
According to a report by Masvingo Mirror, the
popular pastor who then went for a hearing in
Harare did not dispute that he spent a night in
Kundishora's bed but insists that he was alone.
He allegedly said Kundishora went and slept
at another house after he asked for accommodation when he got stranded in
Mvuma late on Tuesday night. However, the
church superiors would not hear any of that
and they fired Makusha after the hearing.
It was gathered that the influential cleric was
allegedly found in Kundishora's bed at 7am when women elders raided Kundishora's place after being told that their Pastor had slept there.
Sources said members of the congregation did not believe that Pastor Makusha slept alone as there were rumours that he and the secretary were an item.
It was gathered that the incident happened
after the Church's Prayer Convention held in
Chivhu on June 11 2017, and after the Convention, Makusha allegedly accompanied
his wife to Harare where he left her at her parents' place.
He is said to have returned to Mvuma on Tuesday evening and sought a place at Kundishora's place after failing to get transport to Musena, his workstation that is 6km outside Mvuma.
In the morning, the owner of the house allegedly alerted women elders in the church that their pastor was with Kundishora at her place.
Sources said elders, Christina Sithole and Maria Chiheya went to the house and knocked at the door and Kundishora opened the door and they saw Makusha sleeping in her bed.
The Pastor is said to have insisted during the
hearing that he had not slept with Kundishora,
and allegedly said that Kundishora only came
back in the morning just before the women
elders arrived.
He added that he had to seek accommodation
from Kundishora because she was the only
person that he knew in Chivhu.