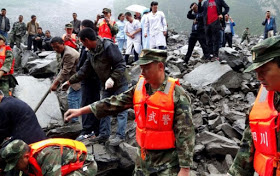 More than 100 Chinese villagers are feared dead, 17 hours after a landslide buried their homes in southwest China as a day of searching by rescuers uncovered just six bodies.
The landslide swept over more than 60 homes as dawn broke in Xinmo, a remote village in north Sichuan province. Rubble slid 800 metres (half a mile) down a steep slope to block a two-kilometre stretch of river and 1.6 kilometres of road, official state news agency Xinhua said.
It said more than a thousand were involved in the rescue effort, including more than a hundred medical staff.
But state broadcaster CCTV reported that by midday only three people had been pulled from the rubble: a couple and their two-month-old baby. Another child of the family remained buried.
Some 112 were believed still missing in the latest count, according to Xinhua. Authorities had previously stated 141 people could not be reached.