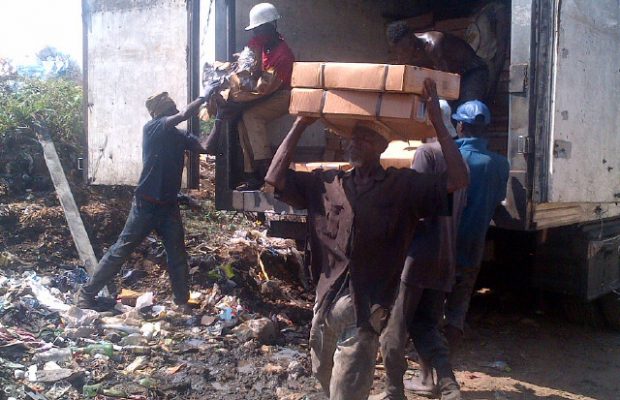 The Controller General of Customs (CGC) Compliance Team in Oyo and Osun states, has arrested a middle aged-man whose identity is yet to be revealed in connection with illegal smuggling of over 250 cartons of imported poultry items into the country.
Representative of CGC Compliance Team, Mr. Chukunalo Okolo made this known at the weekend during the destruction of 250 cartons of poultry items intercepted along Ibadan-Ife Express Way.
Okolo said the items worth millions of naira were concealed in 250 cartons of fish before it was intercepted.
He said "On the 13th of March 2017 around 11:35 am while on surveillance along Ife-Ibadan Express Way, we intercepted this truck and took it to the station. On examination, we found out that 500 cartons of fish was used to conceal 250 cartons of imported poultry products".
He said the destruction was in line with the existing law banning importation of poultry items into the country.
"And you know poultry products is a prohibited item; that is why we are here and that is why we are destroying the items.
"This is a message from the service through the controller via the CGC Compliance Team from Western axis that we are here for people who refuse to comply with the extant law of the country.
"And this is just the beginning, we are going out for them and so shall it be until they decide to be good citizens of this country.
"There was arrest, it is just one person. I don't have the identity now. We will make the identity of the man known to you at the appropriate time.
"The lesson is that people should desist from all these nefarious activities, because one, it does not help the economy. Not only that it is dangerous to our health, it does not help to develop the economy of our country".