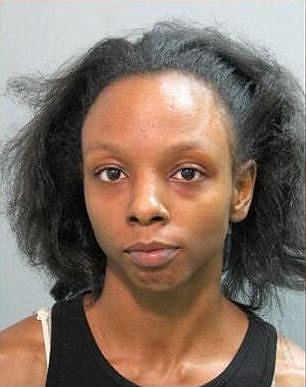 A Houston-area woman accused of placing a plastic bag over the head of her one-year-old son and sending video of the abuse to relatives appeared in court Monday, Dailymail reports.

The woman identified as 23-year-old Jamelle Peterkin was charged with endangering a child. Peterkin, of Humble, allegedly abused the child because she was upset that his father had a new girlfriend.

The boy's aunt, Ra'Neicha Broadnax, said that in recent days she had seen the videos and pictures from Peterkin also showing the child being slapped and having a lighter held to his fingers, ABC13 reported.

Broadnax, who said she began receiving the messages on April 13, said Peterkin indicated she was angry about the father's new girlfriend.

Officers said they saw video of the toddler experiencing difficulty breathing as 'an adult hand was seen stuffing a plastic bag' into his mouth and a photo of the boy 'with a plastic bag over his head' tied in a knot, Click2Houston reported.

A text message she sent accompanying the plastic bag photo read: 'Sad that he pressed to cheat after he just begged me to be his girlfriend.

'That's okay. We can keep playing. Let's see how bad y'all wanna be together.'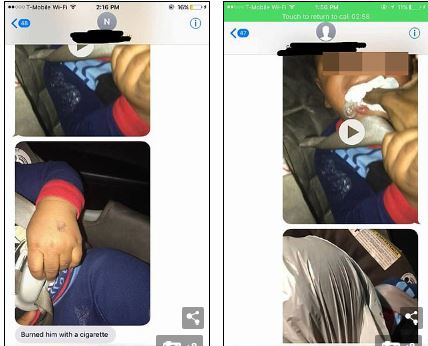 Records show Peterkin also placed a plastic bag in the child's mouth.

In the videos the woman is heard saying: 'That's too bad.That's too bad, yep, I felt the same way' and 'Say 'Dad, you should have just left my mama out your bull****.' Say that.'

Broadnax told CW39Newsfix: 'My brother is incarcerated. His girlfriend was snooping through his phone and she saw he had her [Peterkin] on the 'Do Not Disturb' features, so she took it off and the phone vibrated for an hour straight. When she looked, there were over 300 messages from Peterkin and 64 videos.'

Broadnax then phoned the authorities and asked police to do a welfare check on her nephew. Broadnax also posted some of the videos to Facebook. They visited his daycare center and said they saw no physical signs of abuse but after watching the videos handed the case over to deputy constables, who interviewed Peterkin.

Peterkin admitted that she made the videos about 90 days ago to show her ex, who is the boy's father, that he did not care about their baby. Broadnax said her brother, who is a father-of-three, did not know his son was being abused.

Peterkin was released on $15,000 bond and must stay at least 200 feet away from her son, a Houston judge ruled.