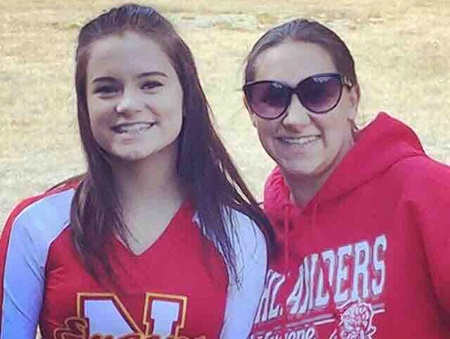 Aurora Sheffel, a 14-year-old girl has tragically died after getting pinned by a log while taking photos on an Oregon beach.

According to NY Daily News, Aurora Sheffel was standing on top of the log at the South Jetty Park Beach in Bandon on Saturday when it rolled on her.

"I was the last person she looked at and we made eye contact before the log rolled over her body," friend Madisyn Leidall told KEZI. "It's just hard knowing that I'll never get to see her again."

Just before the tragic accident took place, a friend snapped a picture of Aurora on the log with another pal.

"She turned her head and it happened," mom Cora Wederquist, who was not at the beach, told the Bandon Western World. "I spoke to her friend that tried to help her. A 14-year-old girl tried to move that log herself, but more water came and rolled it on my daughter. She said it was so quick and that Aurora felt no pain."

Aurora was with pals Leidall and Abbey Sellars, according to KEZI. Madisyn told the station that she was taking pictures on Abbey's phone.

"They were posing, making a heart," she told KEZI. "Then, Abbey lost her balanced so she jumped off. That was when Aurora turned around and she was facing us. Waves hit the log and she fell off. It rolled over her legs and she couldn't move.
"We tried to get her out," she continued. "We were screaming when bystanders came and tried to help us move the log. But the log had rolled again. Doctors said she died instantly because the damage to her head and neck were so traumatic."

Cora Wederquist denied earlier reports that the kids were taking selfies at the time.

"She worked hard and gave 110 percent to everything she did," Aurora's mother told the Bandon Western World. "She was hands down the best big sister anyone could have."
The Oregon State police warned that people should be careful when dealing with beach logs.

"The ocean is strong enough to pick up even the biggest log and roll it down on top of you," the state police said in a press release. "Some logs may look small, but even the tiny ones can be waterlogged and weigh tons."

Aurora was celebrating the start of spring break, and the fact that she had been selected to the cheerleading squad at North Eugene High School as a freshman.

"She was really mostly a nerd," stepdad David Wederquist told the Register-Guard. "Straight As. But she thought she'd give cheerleading a try. She was just a great kid; you couldn't ask for one better."

A GoFundMe page has raised more than $8,000 for Aurora's family in just a few days.

"She was a bright and beautiful soul who brought joy to everyone she met," read the tribute.

Wederquist told the Register-Guard that his young daughter Teagyn "followed Aurora around like a little shadow."