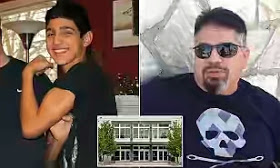 A high school wrestling coach murdered a 14-year-old student, and shot dead a colleague before turning the gun on himself, police believe.
Kenneth E. Valdez, 44, and Jason E. Huston, 45, both coaches at Hermiston High School were found dead in the suspected murder suicide at Valdez's home in Hermiston, Oregon on Thursday.
A 35-year-old woman was also discovered with gunshot injuries and was rushed to hospital. Police believe that Huston shot Valdez and the unnamed woman multiple times before he turned the gun on himself.
Student James 'JJ' Hurtado, who was reported missing on Thursday morning, was found dead in a remote area outside of the town later that same day, East Oregonian reports.
Police say he was last seen at 10am with the assistant wrestling coach Huston had picked him up yesterday to play disc golf at McNary Park.
Hermiston Police Chief Jason Edmiston said the department is not searching for other suspects.
Police have not yet released any information about the motive for the murders but say all the victims were familiar to each other.
Shortly after responding to the crime scene at Northwest 11th Street and West Madrona Avenue, police obtained search warrants for Huston's home and car.
'At some point we may be able to release additional details on what transpired today, but with our already limited resources stretched at three separate locations, our primary focus at this time is finding JJ,' Edmiston said in the release.
Huston, 45, was previously arrested for menacing and unlawful possession of a firearm in 2009. He was sentenced to a year on probation and 20 hours of community service.