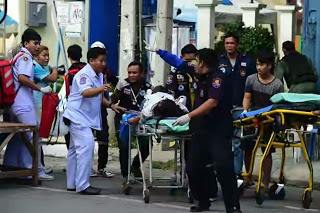 Four more blasts have hit Thailand just hours after two bombs killed one person and wounded 23 in the popular tourist destination.
At least three people were wounded in twin explosions, which happened at around 9am local time (2am GMT) near a clock tower in the seaside resort of Hua Hin, south of Bangkok.
Two more small bombs also exploded on the island of Phuket.
The first bomb exploded near a police box, wounding one Thai man, a police officer in Phuket said. The second exploded 300 metres away and nobody was hurt, he said.
The latest blasts came after two bombs exploded in Hua Hin, killing one woman and injuring 23 people, including two Brits.