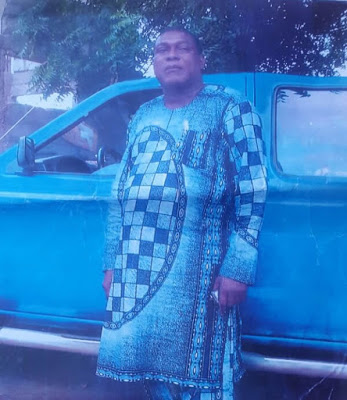 The police in Lagos state have launched a manhunt for a Ghanaian engineer, Dotse Dzrekey, who allegedly disappeared after attending a prayer programme at the Synagogue Church of All Nations, SCOAN, in the Ikotun area of the state.
The 59-year-old engineer, who worked in an oil company in Accra, Ghana, had come to Lagos on May 5 with his countryman, Don Emmanuel, to attend a prayer programme scheduled to hold on May 7, the Punch learnt.
According to the report, the duo had gone for a service at SCOAN on May 7.

However, while walking out of the auditorium, Dzrekey reportedly got lost in the crowd.
Emmanuel was said to have waited at the entrance of the auditorium even as there was no trace of his friend.
Subsequently, Emmanuel returned to the hotel where they lodged and later reported the matter at the Ikotun Police Division.
Narrating the incident, Emmanuel said he had assumed that Dzrekey had decided to return alone to Ghana, until he (Emmanuel) was called on the telephone by Dzrekey's family members that they had yet to see him.

Emmanuel said, "This is my second time in Lagos. I am a SCOAN member in Ghana. I come to Lagos for prayers. Dzrekey and I came to Lagos on May 5 and we checked into a hotel not on the SCOAN premises. We had been going for several prayer sessions.
"On Sunday, after the church service ended, there were a lot of people coming out. In that process, I discovered he was no longer with me. I went back into the building to check, but he was not there. He was not with a mobile phone. I alerted some of the church ushers, who said nobody was found.
"I thought that he had taken another route and gone to the guest house. I got to the hotel, but he was not there as well. There was little SCOAN could do since it was not their guest house we lodged in. I went to the police station on Monday and reported the matter.
"The police took my statement. But since May 9, neither I nor his family members in Ghana have got any update.
"He did not return to Ghana because his family members called me that he had not returned. The Ghanaian High Commission is also aware of this incident," Emmanuel added.
Dzrekey's younger brother, Jacob, said the family members in Ghana were distraught, urging the police to investigate the case.
Jacob said, "Dzrekey has three children. He had some challenges and he came for special prayers. But nobody has seen him ever since then. The family members are distressed. His company in Accra has been communicating with us to use all channels in Lagos to get him back."
A member of the SCOAN media team, Patrick Iwelunmor, said the church authorities would meet over the matter on Friday (today).
According to Iwelunmor, "I just heard about this incident. The church authorities have been given your contact. They will get back to you after meeting on Friday."
Confirming the incident on Friday, the Lagos State Police Public Relations Officer, PPRO, SP Dolapo Badmos, said the family had not reported back at the police station.
Badmos said, "The Ghanaian had some mental challenges and was brought to SCOAN for deliverance.
"He, however, escaped to an unknown destination.
"The complainant dropped the victim's picture and left with a police extract. Ever since then, they have yet to report back at the station," the PPRO added.