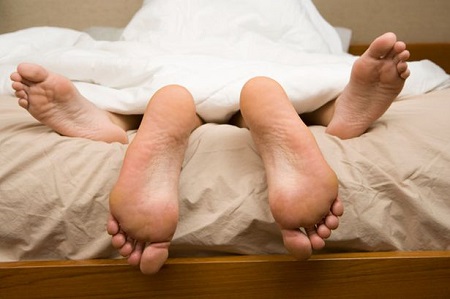 Whether it's morning glory or afternoon delight, set your alarm for s*x o'clock.

You're most likely to get an erection when you have a high level of testosterone, as the hormone is responsible for sex drive.

So if you're wondering what the best time of the day to have sex is, take a look at how your testosterone levels change throughout the day.

A bar chart, created by Stephen J. Winters at the University of Louisville, mapped mens' average fluctuations in testosterone levels over a 24-hour period.

And as you can see testosterone levels are highest between 4am and 8am - reaching a peak at 7am.

This explains the "morning glory" phenomenon and also why sexperts believe the morning is the best time to enjoy a quickie.

When a man has higher testosterone and is well-rested, he has more energy meaning that he'll be able to last longer in bed naturally.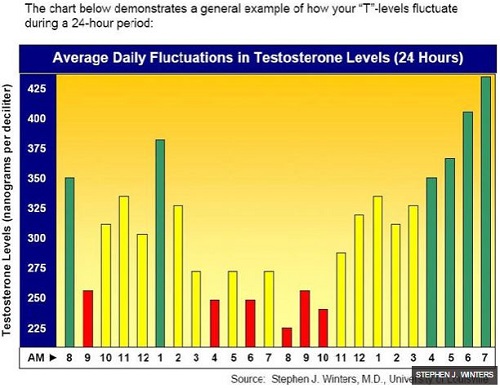 According to sexual health and wellbeing expert Samantha Evans just several minutes of morning sex can also keep you looking younger and improve your mood for the rest of the day.

Samantha said: "Men accumulate testosterone as they sleep and from the time they wake up, they have a three hour window when they are brimming with testosterone.
"That early morning erection is not called 'morning wood' or 'morning glory' for nothing.
"Whatever it is called, having an erection on waking up is as good a reason as any to initiate a little morning s*x."

Meanwhile, if you're someone who enjoys an afternoon delight, it might be because you get a surge of testosterone at around 1pm.

It also explains why you might experience an unwanted or random erection at this time of day. On the other hand a guy's testosterone level is plunges between 8pm and 10pm.

Low testosterone and erectile dysfunction (ED) go hand-in-hand so if you already find it difficult to get it up, then it might be better to avoid this window.

*****
Via Daily Star UK