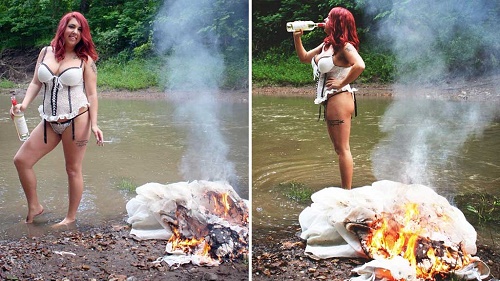 A woman has celebrated divorcing from her husband in spectacular style. She marked the official end of her marriage by dousing her wedding dress in petrol and setting it alight, hiring her wedding photographer to capture the moment.

According to a report by Honey News, Katlynn McKee split with her husband of four years a few months ago, and wanted to mark the occasion in a memorable way. The woman from Illinois cut her $2000 gown to shreds with scissors, taking it off, pouring petrol all over it and setting it on fire.
"My relationship wasn't a good one, so it was a relief to finally be free," she said.
"It actually ended up being quite sexy because I stripped down to my underwear."
"I watched it burn while I drank the wine."


McKee told her ex about her plans, and he thought it was so fun that he offered to take part in the photos.

But the 25-year-old declined his offer. McKee has a new boyfriend now, who was supportive of the "cool" photo shoot. She now has the photos on display in her new home.