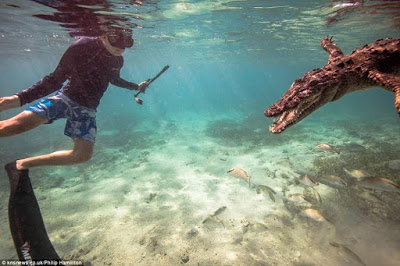 Chris Hamilton, a 14-year-old was handed a unique birthday present -swimming with crocodiles. Chris flew with his father, an underwater photographer and conservationist, to Cuba and then by boat to a salt water mangrove swamp 50 miles off the coast of Cuba at Jardines de La Reina.
Here, Chris was able to swim and come face to face with crocodiles, and his father was there to record the event.
However, it didn't all go to plan. They had to get out of the water pretty quickly when more crocodiles, some measuring 14 feet, turned up than was safe to be in the water with.