In the latest update of the Covid-19 pandemic in the country, the Nigeria Centre for Disease Control, NCDC has just announced that there's been 114 new cases of the novel Coronavirus in the country with 80 new cases in Lagos, 21 in Gombe and 5 in Abuja.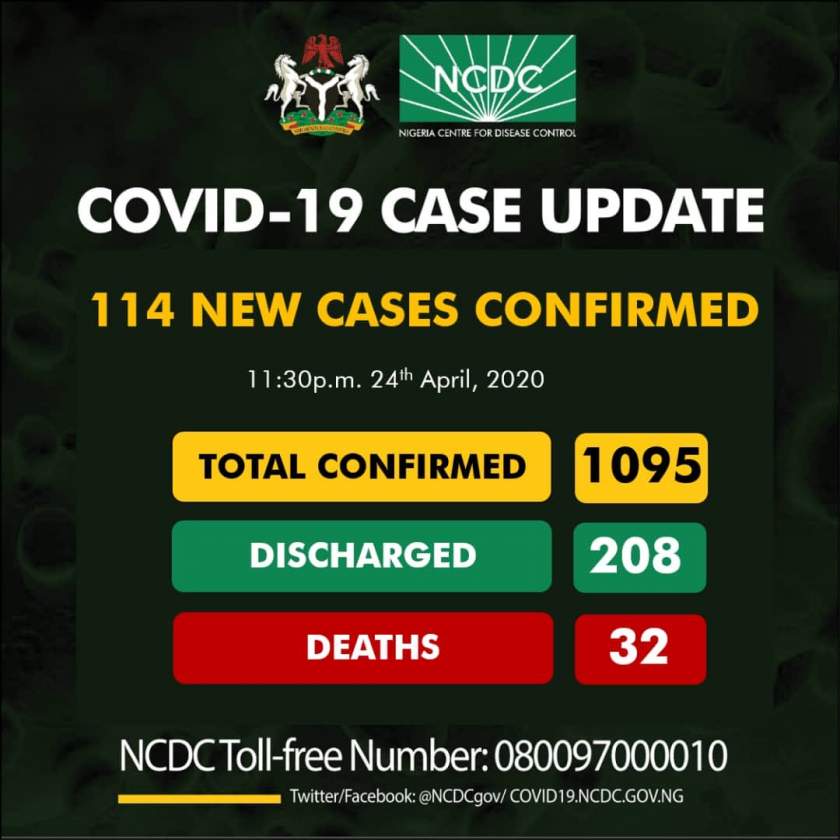 In a series of tweets shared moments ago, the NCDC gives the latest statistics as thus,
114 new cases of #COVID19 have been reported;
80 in Lagos
21 in Gombe
5 in FCT
2 in Zamfara
2 in Edo
1 in Ogun
1 in Oyo
1 in Kaduna
1 in Sokoto
As at 11:30 pm 24th April there are 1095 confirmed cases of #COVID19 reported in Nigeria.
Discharged: 208
Deaths: 32
As at 24th April, Nigeria has recorded #COVID19 confirmed cases in 27 states and the Federal Capital Territory
In the last 24 hours,number of new cases increased by 114. Number of deaths increased by 1
5 cases previously recorded in Lagos, are now recorded as Ogun state cases.
As at 11:30 pm 24th April:
Lagos-657
FCT-138
Kano-73
Ogun-35
Gombe-30
Katsina-21
Osun-20
Edo-19
Oyo-18
Borno-12
Kwara-11
Akwa Ibom-11
Kaduna-10
Bauchi-8
Delta-6
Ekiti-4
Ondo-3
Rivers-3
Jigawa-2
Enugu-2
Niger-2
Abia-2
Zamfara-2
Sokoto-2
Benue-1
Anambra-1
Adamawa-1
Plateau-1