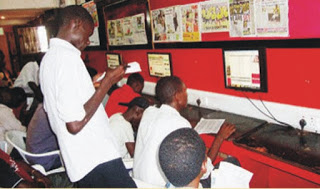 Just got hold of this Article from The Infoscope - FUTO Facebook Page, and after reading, I decided to share. Hope to enlighten you guys on this.
If you have been to a sports viewing center or have been to a sports betting shop, you will definitely agree with me that sports betting is gradually eating deep into the minds of our youth that they are beginning to see it as normal. This trend of "I want to make quick money" has deluded most of our youths and even married men into ostentatious spending. A lot have been said in a bid to curb this ugly trend but it seems we have reached the point of "no return" However, it won't deter me from lending my own voice to help to condemn this glorified form of stealing. I will be writing not as an egoist but based on the comments I have received so far on sports betting and also based on personal observations citing some few examples. Recently, while going through the threads of Nairaland, I came across a topic titled "Is sports betting a sin?", and people argued on it but dear reader, do you think sports betting is a sin? I will start by giving you hint on what sports betting is all about.
Sports betting can be described as an activity of predicting sports results usually played with money and you will expect a "huge" sum of money if your predictions finally work. You will predict which team will win or draw in a match and each match fixture usually carries its own odds and the higher the odds, the higher chances of winning huge sum of money. There are various forms of sports betting like the type played at pools, "Baba Ijebu" but I'm concerned with online sports betting. Online sports betting can be done on various platforms like bet9ja, Nairabet, Nairastake, surebet247, bet365naija, 9japredict, bet2win, 360bet, 1960bet etc. but the most popular among them are bet9ja(owned by KC Gaming networks ltd) and Nairabet(Owned Get Altitude Nigeria Ltd) and each them have various outlets in Nigeria.
They have many exciting list of sports to bet on which include soccer, tennis, basketball, volleyball, motor sports, horse/dog racing, rugby, handball, American football etc. but the most popular among Nigerian youths is soccer betting and these sports are available from teams all over the world. Soccer bets can be played on premier league, Champions league, bundesliga, la-liga, international and local matches etc. Bet type includes: head to head, over/under, odd/even, correct score, goal difference, winning tam etc.
Okay, how is soccer betting done? Let say Manchester United is to play against Liverpool FC at Old Trafford, Manchester United will be denoted with 1(since they are home team) while Liverpool FC will be denoted with 2(since they are away team) and each of the two team will carry an odd/points depending on their chances of winning, bets are placed using this odds. After you must have booked or accumulated the odds you want, you will now go to a bet shop with your booking number and printout your betting slip, then you sit and pray your predictions work as you will become the next "Bill gate" if you win.
This trend is common among the youths especially Undergraduates and most married men. I don't really know whether we have female punters as I have not seen one before. Betting has its own spirit that once you get addicted to it, to come out from this ugly habit will be very difficult unless you go for deliverance. I know of a friend of mine who is heavily addicted to soccer betting, each day I see him with different bet slips but I have never for one day hear him say that he has won any reasonable amount of money, rather he keeps saying the usual cliques of "Chelsea don cut my game", "My bet don cast". One funny thing about soccer betting is that with a little amount of #100, you can play a bet that can earn you up to #50,000. My brother, aren't you a thief trying to reap where you did not sow? Betting is a fruit of laziness. No serious minded person will like to indulge in such habit.
Just go to a bet shop and check out the caliber of persons that play bet and you will definitely agree with me that only a lazy, egocentric and avaricious person will indulge in such act.
Betting is structured in a way that if you eventually win, you will be tempted to bet more and by so doing, you've lost all you earn.
Someone was telling me that soccer betting is a form of youth empowerment, I laughed when he said it. Betting can never be a form of youth empowerment; rather it is a glorified form of stealing driven by greed. There are many ways to be empowered and earn cool cash rather than betting. I've heard stories of how young people play bet with their school fees and many have fallen victim to that. I am not against sports betting if one is doing it to reward his passion for sports and not as a form of being empowered. Betting becomes a sin when you are addicted to it because it will definitely lead you to commit other evils like stealing person's money to play bet and lying to your parents just to get money to bet a match. Imagine when a married man uses all his income to play bet at the detriment of his family, what is he teaching his children?
Okay, if betting was a form of youth empowerment, have you ever seen any young man that did anything reasonable with the money he won through betting?
Conclusively, the earlier our youths starts to be useful with their time, they better for our nation. The easiest way to quit betting if you are addicted is to make a firm resolution not to bet again and always learn to control yourself. The love of money is the root of all evil. If you're addicted to betting, just sit down one day and calculate how much you have lost and how much you have gained through betting and you will see reasons why you should quit it. Leaving an old habit is not usually easy but with determination you will achieve it. Seek for parental and spiritual advice as it will help you to overcome it. Don't forget to ask God to help you to quit betting. No matter how much you bet with, you can never be the next world richest man.
Written by:
Anthony John Aniebo.