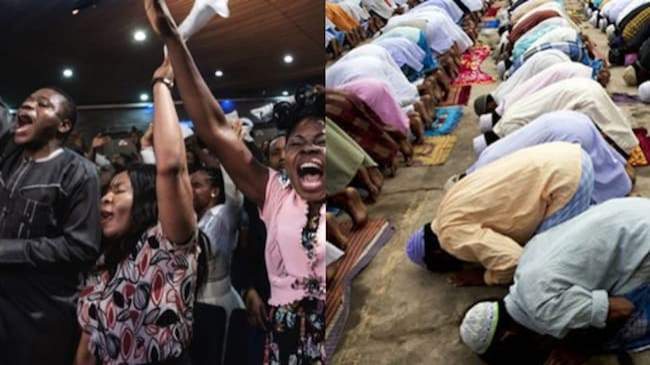 The federal government had imposed a ban on social gathering and open worship as parts of the concentrated efforts channelled towards curbing the spread of Covid-19 across states.
But following the submission of the presidential task force on Covid-19, government at the central announced the relaxation on the ban on religious gatherings in the country effective from Monday, June 1.
Interestingly, PTF said the decision was reached based on the guidelines and protocols agreed upon by state governments in lines with the protocols of NCDC.
In a subsequent effort, some state governments including Lagos have announced that religious centres in the country still remain under lock and key as Covid-19 took a danger-filled swipe at 35 states.
Nigeria presently has 10,819 cases of coronavirus with impressive 3,239 recoveries and 314 fatalities.
Meanwhile, we highlight states that rejected FG's orders over the lifting of ban on religious centres.
1. Lagos
Unarguably the epicentre of coronavirus in Nigeria, Lagos has 5,277 cases and has recorded 67 deaths, posing a great challenge that ruled out the possibility of reopening mosques and churches in the state any time soon.
Immediately federal government lifted the ban on religious centres, Lagos commissioner of home affairs, Anofiu Elegushi, said the state will maintain the status quo as per the reopening of churches and mosques.
2. Kaduna state
With 297 cases, Kaduna state sits 7th on the list of 35 states affected by the Covid-19 pandemic.
In response to the federal government's Monday declaration, Kaduna government announced that it has not reopened markets or places of worship.
The announcement was made in a statement signed by the media aide to Governor Nasir El-Rufai, Muyiwa Adekeye, on Tuesday, June 2.
The statement noted that the Kaduna state government has already started engagements with stakeholders in the state on the issue.
3. Kwara state Standing on the 15th spot with 111 cases, Kwara is one of the north-central states hit by the coronavirus pandemic.
The state has also dusted off the possibility of reopening churches and mosques.
Kwara commissioner of health, Raji AbdulRazaq, stated that although a central order has commanded the reopening, it is left to the state authorities with the discretion to implement it.
4. Osun state
Osun state government, reacting to the reopening of the religious centres, said the state will engage the religious leaders to discuss the modalities for the reopening.