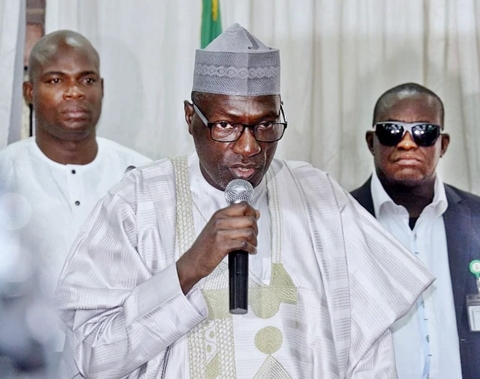 In a statement signed by Mukhtar Zubairu Sirajo on Wednesday, the National Caretaker Committee Chairman of the Peoples Democratic Party (PDP), Senator Ahmed Mohammed Makarfi, denied media reports that he has confirmed his interest in seeking to fly the flag of PDP in 2019.

While speaking through his media aide, Makarfi said the reports in some media that he has confirmed interest in flying the party's ticket in the 2019 presidential election was not the true reflection of what he said in the interview he granted newsmen.

He said, "The attention of Sen. Ahmed Mohammed Makarfi has been drawn to reports in some sections of the media, which seem to suggest that he has confirmed an interest in seeking to fly the flag of PDP in 2019. This is not a very true reflection of what the Distinguished Senator gave out in a chat with some newsmen couple of days ago.

"The fact is the senator was asked what threat the return of Atiku Abubakar to the party portended to the aspirations of others who had either made their intentions known or those, who, like him were rumoured to be nursing such ambition.

"His answer was that Atiku's return would not, in any way, adversely affect the rights of any member of the party to aspire to any position, adding that there was no preconditions to the return as Atiku Abubakar did not ask for, neither did the party offer any concessions to him beforehand.

"Sen. Ahmed Makarfi wishes to assure the teeming Members and supporters of the PDP and indeed the entire country that his own major preoccupation at the moment is to discharge the responsibility given to him to lead the process of repositioning the party, which he hopes will culminate in the conduct of a very credible and transparent convention this Saturday. This is what matters the most to him at this moment."