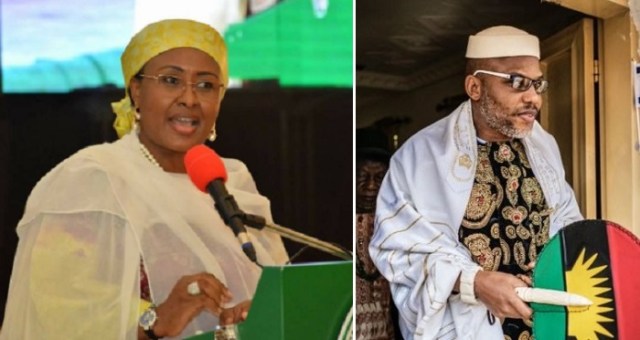 First lady of Nigerian, Aisha Buhari, yesterday took a swipe at leader of the Indigenous People of Biafra, IPOB, Nnamdi Kanu.
As Her excellency spoke at the opening of a two-day stakeholders meeting on Reproductive, Maternal, Newborn Child, Adolescent Health and Nutrition held at the Banquet Hall of the Presidential Villa in Abuja, Mrs Buhari said President Buhari's absence emboldened a "40-year-old man" living in his father's house to create a state within his state.
IPOB leader, Nnamdi Kanu who was living in his father's house, went into hiding recently after his father's house in Umuahia, Abia state, was "invaded" by the Nigerian military.
Mrs. Buhari is quoted:
"As a result of spending several months by the President outside Nigeria, a 40-year-old man who was still living in his father's house, created a state out of a state and that is a major set back for the country and the health sector did not benefit," she said