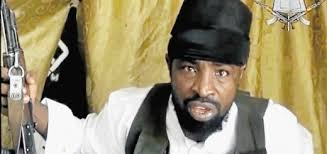 In the video released through a journalist, Ahmad Salkida​, the sect's leader, Abubakar Shekau spoke for about 10 minutes​.
He said several female officers were abducted​​ during​ Boko Haram attack on a joint police/military convoy near Maiduguri​ on June 20.
His speech is then followed by scenes of the
fierce attack, which took place on the Maiduguri-Damboa road.
In the 17 minutes and 25 seconds video, graphic contents of one of the terror victims are shown, as well as images of another set of victims perhaps about to be beheaded​.
Shekau,​ takes credit for the attack and mocked Nigerian security officials for lying that Boko Haram had been defeated.
"I want to tell you that we are the one that
attacked the convoy, here are the vehicles for
all to witness, we are the ones that abducted
the female police officers​. I​n fact, they are
senior female police officers," Shekau boasted.
"What we did is nothing when compared to
our women, children, and friends that have
been wiped out or arrested for many years by
the Nigerian government. We only abducted
them to serve as slaves to us", he added.
He also declares that the women his group
abducted are fewer than 10 in number, and
referred to them as "slaves".