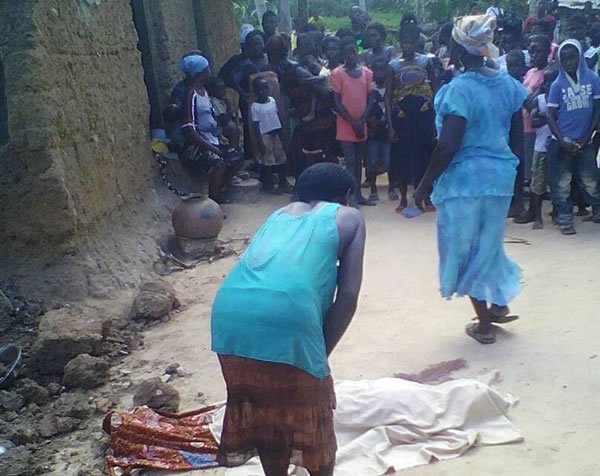 Two family members have died after a mud wall weakened by rains collapsed on them last Sunday at Assin Akropong in the Central region of Ghana, according to a report by MyJoy.
The victims, 86-year old Yaa Nimo died instantly while 78-year old Yaa Antaa other succumbed following an unconscious spell. Torrential rains have been regular in Assin Akronpong as a major rainy season begins. The building is largely mud on all four sides and an asbestos roofing sheet.
It is believed that consistent rain fall weakened the structure is a remote cause of the tragedy.
But the vigorous physical exercise of fufu pounding has not been ruled out as an immediate trigger.
Yaa Nimo and Yaan Antaa had returned from church last Sunday afternoon and decided to prepare the week-end delicacy.
The two began the exercise behind the wall of the building with suspicious physical integrity.
Blood splattered on to the mortar containing the progressive formation of fufu.
The mortar became a mixture of mud, blood and fufu in its progressive state. While Yaa Antaa writhed on the floor until she fell unconscious. her relative was motionless at the unrestrained impact of the mud walls.
Curiosity drew residents in the community to the scene. The body was covered with a cloth
awaiting the police. Police are concluding a report on the incident while the bodies of the two have been deposited at the morgue. Details of the identities of the deceased are yet to be confirmed.