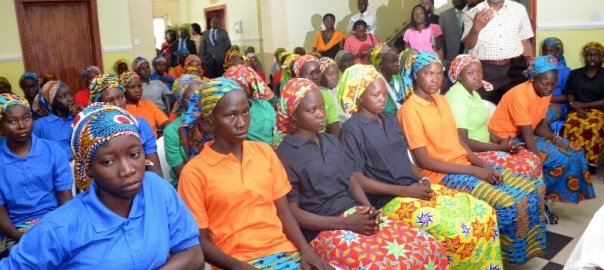 The Labour Party, LP, has warned that the ruling All Progressives Congress, APC, should expect
the "wrath of God for deceiving Nigerians and manipulating the parents" of the 82 Chibok girls recently released by Boko Haram.
In a statement signed by its National chairman, Alhaji Abdulkadir Abdulsalami and sent to DAILY POST, the party described as a "fluke," the reported release of 82 Chibok school girls.
Abdulsalam said the 82 Chibok girls, "came from nowhere" because the government was playing with the integrity, intelligence of the Nigerian people and Nigerian nation.
He warned the government not to claim any credit "for what they have packaged, prearranged and now executing."
According to Abdulsalami, "The government should expect the wrath of God for deceiving Nigerians and manipulating the parents of the Chibok girls. The release of the Chibok girls is a fluke and an ordinary abracadabra. If by this time, they claimed to have captured Sambisa forest, from which other forest will they say they have brought these girls?
"I think Nigerians need to be told the truth by our leaders, if they want sympathy from Almighty God, what happened to the Chibok girls. By the time we get to May 29 next year (2018), they will now release all the remaining girls to say they have fought the war, they have won the war.
"But the fact of the matter, as I have been saying before, during and after the campaign for
the 2015 general elections, is that these Chibok girls were not kidnapped by any Boko Haram.
They were prepared and arranged to destroy the image and administration of President Goodluck
Jonathan."
"After the Chibok girls, what activity has Buhari done? Buhari is sick, all he needs to do, let him bring all the arsenals for cancer or whatever into Nigeria, the machines and doctors like the Chinese are doing, to turn the health sector around.
"And if they don't have capacity, let them get away from government. The APC should step aside and let a responsible government take over the administration of Nigeria. You can't talk of the government without bringing in APC.
Buhari came on the platform of change, using deceit in all its programmes."
On the ill-health of the President, the party demanded that Buhari should bring all the "arsenals from overseas that would turn the health sector around", instead of jetting out of the country for medical treatment.
He said, "The present government has worsened the suffering of Nigerians. We have suffered enough, and if Buhari doesn't leave office, Nigerians should expect worse repercussions from the government".
Abdulsalami also said the President, "should quit office and hand over power to a responsible government if he feels unfit."