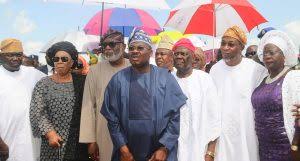 Eminent personalities, including the Senate
President Bukola Saraki, governors, former
civilian and military governors, Yoruba leaders
on Thursday gathered in Ibadan the Oyo State
capital to pay last respect to former Military
Governor of Western Region, Retired Major
General Robert Adeyinka Adebayo at a day of
tribute held at House of Chiefs, Ibadan.
Leading the family to pay last respect is the
scion of Adebayo family and former Governor of Ekiti Adeniyi Adebayo, accompanied by the
widow of the deceased Mrs. Modupe Adebayo.
The corpse had earlier been received around
2pm at the Ibadan end of the Lagos-Ibadan
Expressway.
It was accompanied to the venue around
2.48pm by four governors- Abiola Ajimobi (Oyo),
Rauf Aregebsola (Osun), Akinwumi Ambode
(Lagos) and Rotimi Akeredolu (Ondo).
General Adebayo it will be recalled died on 8th
March, 2017 at the age of 89, a day before his
90th birthday.
Youth Corper reveals how he made over
N800,000 monthly from this PROFITABLE
business. CLICK HERE to download free report
At the lying in state, apart from Saraki and
governors are Deputy Governor of Ogun State,
Mrs. Yetunde Onanuga, Deputy Governor of
Osun State, Chief Grace Laoye Tomori, former
Governor of Osun State, Chief Bisi Akande,
Former Military Governors of old Oyo State,
General David Medaiyese Jemibewon, Col.
Oladayo Popoola and Real Admirer Akin Aduwo
and former Civilian Governor of old Oyo State
Dr. Victor Olunloyo, former Deputy Governor of
Oyo State Chief Iyiola Oladokun.
Others include the Olubadan of Ibadanland, who
was represented by his chief led by High Chief
Owolabi Olakulehin (Balogun of Ibadanland),
Secretary to Ogun State Governor Barrister
Taiwo Adeoluwa and Commissioner of Police in
Oyo State Mr. Abiodun Odude.
Also in the list is the Senators representing Oyo
Central and North, Alhaja Monsurat Sunmonu
and Dr. Abdulfatai Buhari, members of Executive Councils in Oyo, Osun, Ogun, Ondo, Lagos and Ekiti.
The Provost of the Cathedral, St. Peters
Anglican Church, Ibadan, Venerable Wale Adebiyi and representatives of Chief Imam of Ibadanland Sheik Abubakri Abdulganiy Agbotomokekere prayed for the soul of the departed octogenarian.
Saraki while speaking urged the gathering not to mourn but to celebrate a life well spent.
He said "I stand here not to mourn but celebrate General Adebayo, it is not common for six state governors to celebrate an individual, let me commend the efforts of the organizers.
"I think Baba Adebayo deserves more than this,
on behalf of entire Senate General Adebayo is
more than South-West.
"That is why the entire Nigeria is here to honour
General Adebayo.
"The only tribute we can have for them is to
sustain the labour of our past heroes not to die
in vain."
Ajimobi while speaking on behalf of his
colleagues, described Adebayo as an illustrious
son of Africa.
"Papa fought a good fight, and we take solace, I
congratulate us all for the good works of the
late General Adeyinka Adebayo.
"Papa has carved his name on our heart, his
legacy will always remain in our heart. May his
gentle soul rest in peace", he said.
Secretary to Oyo State Government who is also
the Chairman of the planning committee, Alhaji
Olalekan Alli earlier said that the demise of
Adebayo though heartbreaking was a thing of
joy for a life well spent.
He said the choice of Ibadan for the day of
tribute was in recognition of his contributions.
Members of the Yoruba Council of Elders who
spoke through Chief Sofola, described the
demise of Adebayo as a hugh loss.
"He was an embodiment of what has been said
here. As Military Governor, he contributed to the
betterment of his people and as Chairman of
YCE he worked diligently for the betterment of
people", he stated.
Representative of Vice Chancellor, University of
Ibadan, Professor Idowu Olayinka represented
by DVC (Admin) Professor Emilolorun Ayelari
declared that tremendwous achievements by the former Pro Chancellor of the university will continue to be remembered by the university.