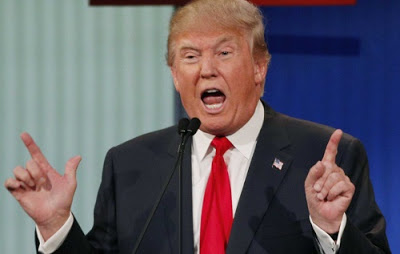 Donald Trump has exploded over the 'disgusting and corrupt media' he says is holding him back after a New York Times article claimed his advisers had tried to rein in his 'incendiary' behavior.
The article, published over the weekend, claims that Ivanka Trump, her husband and Trump's political team held an intervention on June 20 - and that he agreed to change his tune, but fell back into old habits.
Now the article was met with vitriol by the candidate, who described the newspaper as 'failing' and its remarks as 'false' Sunday, and blasted the wider media as 'corrupt'.
The article, titled 'Inside the Failing Mission to Tame Trump's Tongue,' cites four unnamed insiders as saying that Trump was forced into the intervention in June.
It says the group - which also included Chris Christie and Trump's campaign chairman Paul Manafort - demanded that he start using a teleprompter and 'end his freestyle digressions and insults.'
And, the article claims, he agreed - but followed that up with popularity-killing attacks on the parents of a slain Muslim US soldier and the alleged incitement of the assassination of Hillary Clinton.
But on Sunday morning the Republican candidate took to Twitter to denounce the article - and wider media.
'The failing @nytimes talks about anonymous sources and meetings that never happened,' the candidate fumed. 'Their reporting is fiction. The media protects Hillary!'
He continued: 'The failing @nytimes, which never spoke to me, keeps saying that I am saying to advisers that I will change. False, I am who I am-never said.'
He then turned his glare to the wider media, accusing 'bias' of stripping him of a 20 per cent lead on Hillary Clinton.
'If the disgusting and corrupt media covered me honestly and didn't put false meaning into the words I say, I would be beating Hillary by 20%.'
'My rallies are not covered properly by the media. They never discuss the real message and never show crowd size or enthusiasm.'
Four hours later, Trump returned to the topic, ranting that the media is 'protecting' Clinton, whom he described as 'not a talented person or politician.'
'I am not only fighing Crooked Hillary, I am fighting the dishonest and corrupt media and her government protection process,' he fumed. 'People get it!'
He added: 'It is not "freedom of the press" when newspapers are allowed to say and write whatever they want even if it is completely false!'