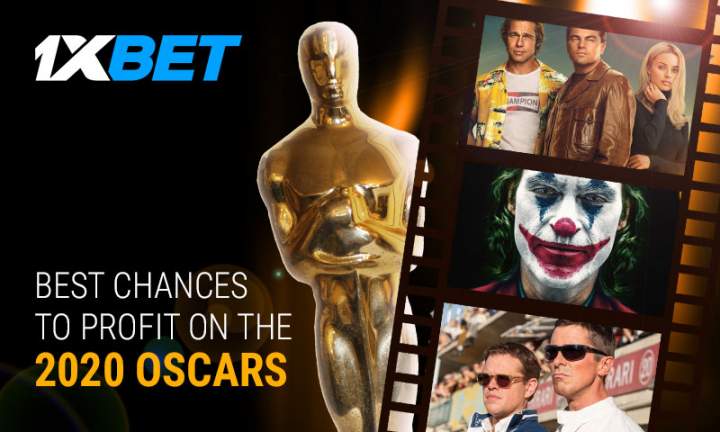 1xBet prides itself in offering some of the most interesting betting markets possible and none more interesting or fun than the Oscars.
Award season is upon us! This is not only an exciting time for Hollywood royalty but also for bettors the world over. The Oscars is one of the most hotly contested events in the world which makes it a perfect match for keen bettors. There are so many categories to choose from, however, the most popular to bet on are Best Actor, Best Actress, Best Director, and Best Picture.
Who to bet on? If you are an avid movie-goer then you will have a clear idea of your favorite.  For those who enjoy Hollywood betting but don't really watch movies. 1xBet has you covered. Just register and look at what is available in the betting and odds line up. 1xBet makes it easy to enjoy winning while having fun.
So, who are the favorites you may ask? This is how the leader board is shaping up right now.
The best actor category has a few strong contenders in the form of Leonardo Dicaprio, Antonio Banderas and newcomer Adam Driver. But racing ahead of the pack is the ominous, chilling performance by Joaquin Phoenix. The 2019 rendition of The Joker is arguably the best version of the comic character ever, and that is solely because Phoenix put his whole soul into the character and this deserves the reward.
Another iconic portrayal was that of Renee Zellweger as Judy Garland. Not for a moment in the movie could viewers see Zellweger as she completely transformed into the legendary Judy, as if she had come back to life. Tinseltown is abuzz with praise for Renee Zellweger's performance. It is hard to imagine any other actress in the category being able to eclipse her winning performance.
While the supporting actor role is not the most important award of the night, this year it is worth mentioning Brad Pitt in his role as Cliff Booth in 'Once Upon A Time in Hollywood.'
Despite his 56 years of age he cuts a dashing character and fully embraces the era and the bad guy role. His performance is well worth a nod by the Academy!
This brings us to who should you bet on as a hot favorite to receive the Best Director award. Sam Mendes (1917), Todd Phillips (The Joker) and Martin Scorsese (The Irishman) are all up there on the leaderboard. But one name cuts the edge and that is of Quentin Tarantino.
The quirky, oddball director has won in the past for Best Screenwriter (Pulp Fiction) but this could be his first, and well deserved, as Best Director.
Another little side bet that is on offer is the memory montage video that is shown annually at the awards ceremony to honor movie industry greats that have passed over the last year.  This year Rutger Hauer seems to be the firm favorite to make an appearance. Rutger, known for his role in 'Blade Runner', immortalised himself and made himself a perfect candidate when he said in a famous line "It's time to die."
With that, it is now time to get in on the Oscar action. Register with 1xBet who provides excellent odds, choose your currency of choice and get betting. Then all that's left to do is grab the popcorn and watch as your favorites walk away with prize and you win big!