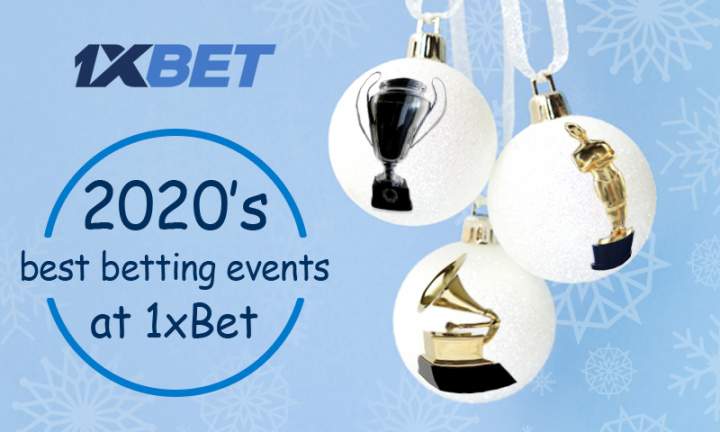 2020 promises to be a tremendous feast of events from all spheres of interest. Whatever your passion is, you've got plenty to look forward to in the upcoming year. And, you can profit from your knowledge...
That's because at 1xBet you'll find amazing odds on all your favourite events from the world of sports, film, television, music, current affairs and much more! Here are some of the standouts awaiting you in 2020:
Sports:
- Euro 2020: European nations battle on the soccer field in one of the most open Euro tournaments in memory. Thrills, spills and surprises are sure to be dished up in equal measure. With betting on who will lift the trophy, and tons of markets on each match, 1xBet customers will be spoilt for choice.
- Champions League: Clubs from across Europe are vying for supremacy, and it's anybody's guess as to who will prevail. Can The Reds defend their title or will their domestic league bid be too distracting?
- 2020 Olympic Games: With the world's best athletes taking part in hundreds of disciplines, the 2020 Olympic games in Tokyo, Japan will provide not only great sports action, but also plenty of chances to win by betting!
Cinema:
- 2020 Academy Awards: Each year, the Oscars celebrates the greatest achievements in each sector of filmmaking. It's a showcase for the best the silver screen has to offer. If you're a fan of films then you can have an edge when it comes to spotting a great bet on the Academy Awards.
- 2020 Golden Globes: Film and Tv are celebrated in equal measure at the Golden Globes. There are tons of chances to win if you watch Tv and movies regularly. So, keep watching and start forming your opinions!
- 2020 Golden Raspberry Awards: The 'Razzies" have gained popularity with each passing year and are a celebration of Hollywood underachievement. The worst quality is highlighted and good fun is had by all. By spotting the films or performances that are particularly abysmal you could cash in big time.
- 2020 Cannes Film Festival: A bit more high brow is the Cannes film festival. Pushing the envelope each year, this iconic event is notorious for shocking and surprising audiences. Who will be acclaimed this year? Keep your ear to the ground and your eyes on the screen and you could scoop up some incredible odds on your choices!
Music:
- 2020 Grammy Awards: The Grammys dish out surprises each year - and we're not only talking about 'Kanye West grabbing the mic' moments. Longshot winners give savvy punters something to smile about each year at this music lovers event.
For Everyone:
2020 Nobel Peace Prize: Activist, politician, aid organization or celebrity. Who will win what may well be the most prestigious award in the world? Opinions are so split and varied that the odds are fantastic on all the contenders. So, read up on who's doing the most to make the world a better place and then place your bet!
There's no doubt that 2020 is brimming with incredible betting opportunities at 1xBet. The best part is that you can start betting on these and tons of other events right now! So don't wait another moment - turn your opinion into profit today and register at 1xBet for the ultimate betting experience.