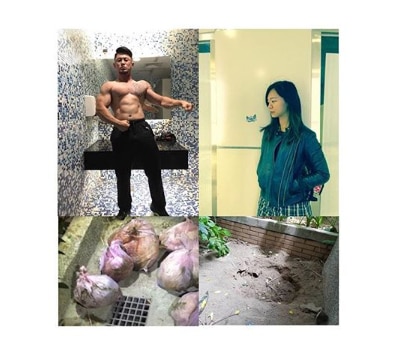 One Gary Chu, a boxer, has been alleged to have killed Yee-min Huang, before killing himself in Taiwan.

According to the reports, the MMA fighter and boxer living in New Taipei City murdered Huang who he met on dating app, Tinder, for reportedly lying about being a virgin.

Detectives disclosed that the 28-year-old man killed the 27-year-old lady after flying into a murderous rage over the fact that she was no longer a virgin. They suspect that Huang had been cheating on Chu at the time of the killing.

Instablog9ja reports that CCTV camera recorded the moment the couple went into Chu's flat together before he allegedly killed and dismembered her then dumped her body in garbage bags.

Chu took his life after killing Huang, in a murder/suicide.

The police disclosed that a suicide note was found with the words, "she wronged me" after Chu was discovered hanging.

Chu also went on a rant on Facebook before his death as Huang's family members began searching for her.

In his rant, Chu claimed he "never once hurt her or restricted her freedom" and said, "after we met on Tinder, she lied to me saying she was a virgin".

He also claimed that she kept coming back to him when he tried to break-up with her.

May their soul rest in peace.Husband murders wife, commits suicide (Graphic Photos)

A man has committed a sacrilege in the Gambia after he murdered his wife before hanging himself in the Mandiary community.

According to a Facebook user, Sizzla Mandinka Worior Jadama, the man had engaged his wife in a fight following allegations of infidelity and in the process, used a knife to slice the woman's throat.

On realizing the gravity of what he had done, the man went to a tree outside his house and used a rope to hang himself. His lifeless body was later discovered by relatives dangling from the tree.

Read what Jadama posted on his wall:

"This thing happened in the Gambia yesterday the village called Mandiary the evil husband did this to his wife and then he hung himself to death. God save the Gambia and the people."