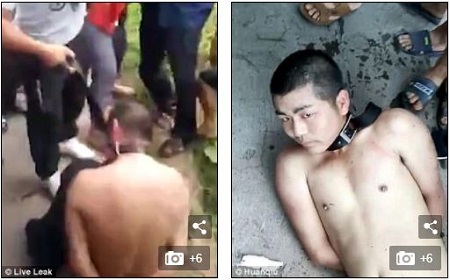 A 26-year-old r*pe suspect identified as Yao Changfeng has been busted by villagers as he allegedly attempted to rape an 11-year-old girl in southern China.
According to Peoples Daily Online, Yao Changfeng was spotted by an onlooker grabbing a young girl away by her hair and dragging her into a bush near a river.
The man was caught by 11 villagers and taken to the police station, confirming that Yao was a top suspect who killed three children and molested over 10.
Video emerged showing the moment Yao, who had his hands tied up, was beaten by an elderly woman in Yuanling county of Hunan Province on July 8.
A villager can be seen pulling the suspect by a belt around his neck while others pointed fingers at him.
An onlooker can be heard in the video saying that she told an elderly woman that she saw a man dragging a young girl to a bush near a river.
The grandmother said the young girl could have been her granddaughter.
About 11 villagers arrived and stopped the man as he was trying to escape by crossing the river.
Yuanling police officers arrived and brought Yao to the station. Yao was confirmed to be an on- the-run s*x offender under the list of grade B fugitives by the Ministry of Public Security.
According to People's Daily Online, Yao killed a seven-year-old girl and her six-year-old brother after a rape attempt in 2011.
Two years later in 2013, Yao molested and later killed a 15-year-old schoolgirl in Hubei Province.
The sex offender also had a record of over 52 criminal activities, which 10 of them involving r*pe and 42 of them involving theft, People's Daily Online stated.
Hubei police officers issued a wanted poster to capture Yao with a 200,000 yuan (£23,000) reward earlier this February.
There will also be a trial for Yao in the coming days.