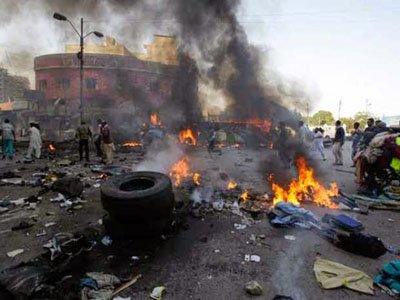 Three female suicide bombers have detonated explosive devises wrapped around their bodies in Maiduguri, Borno State capital.
The arsonists detonated the explosives on Tuesday evening at the outskirts of Maiduguri along the Maiduguri-Zambia road while security operatives tried to stop them from entering the city.
According to the State Police Command, only the assailants were killed in the failed suicide attack.
A statement by the Command's spokesperson, Victor Isuku reads, "Today at about 1755 hours (5:55pm), three female suicide bombers,
suspected to have been conveyed by motorcycle and dropped at a distance to Maranti village in Molai area, were sighted and intercepted by vigilant security operatives.
"In the process of intercepting them, they hurriedly detonated IED strapped to their bodies, killing themselves only."
He added that, "there was no civilian casualty recorded."