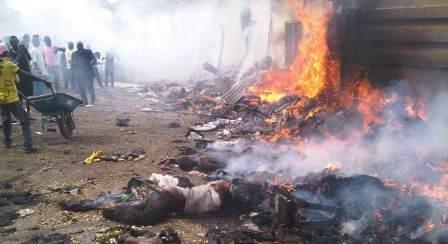 Seven persons were killed in suicide attacks on Saturday evening in Maiduguri, the Borno State capital.
According to PUNCH, Three suicide bombers and four others, including two children were killed in the attacks. It was also revealed that eight persons sustained injuries and were taken to the hospital.

In a statement by the Public Relations Officer of the Nigerian Police, Borno State Command, Victor Isuku, a deputy superintendent of police, the attack happened at about 9pm on Saturday on the outskirts of Maiduguri.
The statement read: "At about 2100hrs of 18/3/2917, three suicide bombers, a male and two female, attempted to infiltrate Maiduguri town through Umarari village in Molai general area.
"They were sighted by Civilian JTF and challenged. They detonated the IEDs strapped to their bodies while running to different directions.
"Four people which include a Civilian JTF, a woman and her two children died while eight others sustained injuries, and have been taken to hospital."