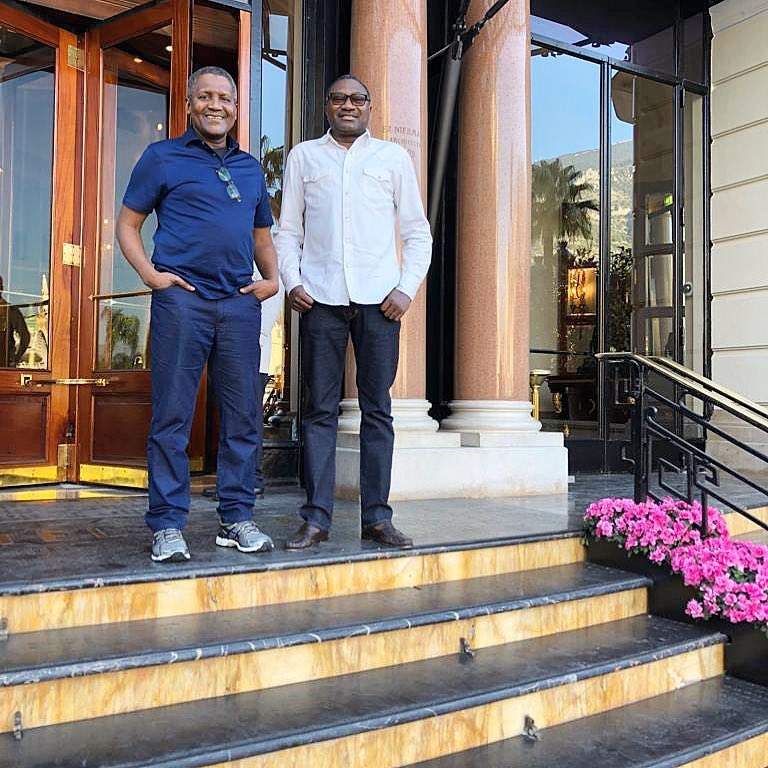 For a very long time, the story Nigerian kids (who are perhaps now youths) were fed with, was that Aliko Dangote - world's richest black person - came from a very poor home and was a petty trader who owned a kiosk where he sold sugar and salt in Northern Nigeria. He was described as the poor man who aspired to inspire and climbed the entrepreneurship ladder to become extremely wealthy. Many kids looked up to him and wanted to climb that ladder too. Their hopes began to dwindle when they discovered that Aliko Dangote did not climb a wooden ladder - in fact, his ladder was almost plated in gold. He wasn't just born into a wealthy home, his uncle has also allegedly given him the sum of $5,000 to start his own business.
We have many cases like this. In Nigeria, there is a progressive birth of new millionaires and business moguls and with this progression comes an increase in the hush surrounding the know-how of the business model.
This has increased the number of motivational speakers who have used the silence of Nigerian millionaires to peddle fake news and sell false hopes. After all, if the billionaires do not want to talk about their success stories, motivational speakers will do it for them:
"Musa was a drop-out, you don't need to go to school to make it"
"Tamuno sold kulikuli and groundnut but he believed in himself. If you can think it, you can make it"
What they will not tell you is that Musa dropped out of the Nigerian University - where he felt he was wasting his time - to school in the UK. They won't tell you that Tamuno started his kulikuli and groundnut business with over 5 million Naira as capital.
It has also increased the number of rich people who, under the pretense of encouraging young Nigerians, constantly insinuate that the reason why many youths are struggling is because they're lazy:
"I stopped saying 'God-when' and started saying 'God why not me'. I was jogging from Parkview to Banana Island and whenever I saw those mansions, I aspired to acquire them. To make my dreams come through, I went back to school in England to complete my studies... Nigerian youths should stop saying 'God When' and start working!"
To start with, how many Nigerian youths live in Parkview or have the opportunity to jog from Parkview to Banana Island? The fact that you lived in Parkview means that you are, to an extent, priviledged. What will happen to those who live in Mushin, Ajegunle, or the many slums of Nigeria? You also went back to school in England? Many Nigerian youths have not even seen or smelt an airplane! Even if they wanted to school in England, they don't have the means!
A lot of Nigerian youths are hungry to become wealthy in a country where everything seems to work against them, but they don't know how to go about this because our billionaires aren't talking. Some wealthy people are scared of revealing their secrets. Many of them also fear 'village people' and the many witches.
There's this belief of 'even if you're rich, keep your head underground. Don't let people know how rich you are so they won't 'shine their eyes' on you or start begging you for money.' Everyone seems to be keeping things hush hush.
There is a lack of mentors and we are left with motivational speakers.
Even when these billionaires, business moguls and so on eventually talk, you can hardly get something tangible to pick from it. It is as if they are living in their own world - oblivious to the struggles of average Nigerian youths.
Let's paint a scenario:
Interviewer: How did your store become the best in the world?
Business Mogul: "We started small in Ogun state, but after a year, we decided to expand gradually. First, we moved to Uyo and then we later opened a store in Kaduna and Abuja. Gradually, we began to have stores in every part of the country. After a while, we said to ourselves 'why not let us export some of these goods since no one is doing so in Nigeria?' and that was how we started the exportation business. After a while, we decided to get established in the UK and US too."
Excuse you, sir? You haven't said anything! We know you did all these, the question is how?
Scenario 2:
Interviewer: As a woman living in a patriarchal society, how have you been able to rise to the top and keep afloat?
Business Mogul: "The trick is to balance your work with your home. I might be a business mogul, but I still cook and kneel for my husband. As a woman, once you can put your home in order and know your place in the society, everything becomes easier..."
The best we have are conferences upon conferences and seminars that will leave you fired up for a while before coming back to face the harsh realities of your life.
Many people have accused Nigerians of having the get-rich-quick syndrome, but can you blame them? Many Nigerian billionaires do not talk about the processes involved in starting their business. They do not give the roadmap of how the business grew from A to Z. They do not talk about the financial steps that were taken or the financial decisions that were made. They just mention the beginning and the end and make it sound like the journey was rosy all through.
How do we navigate through this terrible economy? How do we deal with inflation? How do we ensure we are making the right financial investments? How do we grow even with black tax and the many other taxes? What are the steps the poor can take to join the middle class, what can the middle class do to join the millionaires and what can millionaires do to become billionaires? These are a few of the things the average Nigerian youth needs to know. Stop telling people what to do, tell them how to do it! And be practical. Don't say you started small when your uncle's aunty from somewhere gave you a loan of 10 million Naira to start with.
It is not enough to say "To become rich, you have to catch this fish". It is more important to say "To become rich, you have to catch this fish... and here are the things you can do to catch this fish"
We hear the same things over and over again - save, network, dream, be confident, write IELTS, you can do it... these things are not so applicable if you relate them to the harsh living conditions of Nigerians.
"I graduated with a third class in 1975, but I was confident enough. I walked into that office with my portfolio, demanded to see the boss and got the job"
First, you have to realize that this is 2019, and the economy is a million times worse than it was in 1975. Even with all the confidence in the world, it is less likely that someone with a third class will get a job in a country where there are no jobs to even start with.
If you are wondering why Nigerians read foreign books on finance or listen to every word of foreign business owners, it is because, unlike our business moguls, these foreign entrepreneurs pass their knowledge on to the next generation, and give practical and relatable steps on how to succeed.
Nigerian youths are not lazy, most of them just lack the guidance to navigate through life.
Stop telling them to aspire to acquire. They have aspired already, they only need to know what to do to acquire.
- Bellanaija