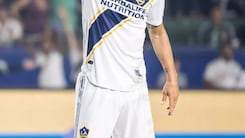 Zlatan Ibrahimovic has become a January target for Serie A side Bologna when his contract with LA Galaxy expires in December.
It is understood that the 38-year-old wants to join Napoli as well as Inter Milan when the winter window opens in January.
According to Italian news media outlet Corriere dello Sport, Bologna are interested in bringing the Swedish striker back to Italy on a six-month deal.
The ex-Barcelona star had successful stints with Juventus, Inter Milan and AC Milan during his spell in the Serie A.
If Ibrahimovic chooses Bologna above other Italian sides, he will be reuniting with old friend and Bologna manager Sinisa Mihajlovic.
"Mihajlovic is a friend, so if I were to choose Bologna, it'd be just for him. We have spoken recently. He told me: "Zlatan, here the others would run for you. All you need to do is stay up there and put the ball in the net".
"I thank him, but it's probably unlikely to happen. If I change my mind, then I'll call him straight away, especially because I could still get 20 goals in Serie A."