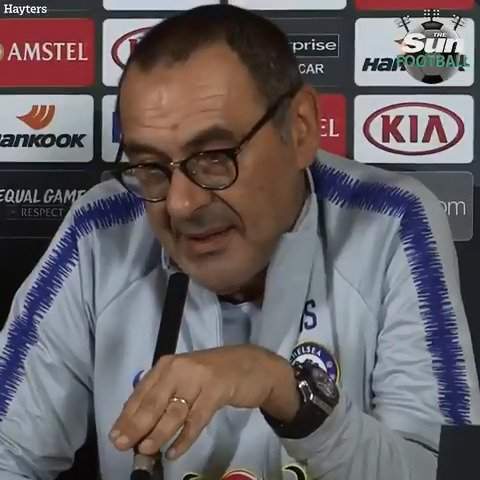 Chelsea boss Maurizio Sarri has threatened to walk out of his contract if winning the Europa League is the only condition to keep his job.
The Blues battle fellow Premier League side Arsenal in the final of UEFA second tier championship next week in Azerbaijan.
Sarri will be hoping to win silverware for the club to make his first season memorable, having lost out of other domestic trophies.
The 60-year-old's job at Stamford Bridge became doubtful since Massimiliano Allegri was released by Juventus at the end of the recently concluded Serie A season according to SunSport.
Sarri managed to qualify his side for Champions League after finishing third on the Premier League table with 72 points - one point better than Tottenham and two above Arsenal.
When asked whether he needs to win the Europa League title to save his position, Sarri said: " If the situation is like this then I want to go immediately.
"After 10 months of work then I have to play for everything in 90 minutes. It is not the right way. You are either happy with my work or not.
"This season is a good season, of course, if we win the Europa League it will become a wonderful season. I think this group deserves to continue to try to improve more ."
He added: " We had a very good season but we need to do more and improve. I don't know what to say about the market, my future is the final.
"I am not able to think about next season or more. My feeling is that for our group this final is very important ."
Sarri has had to face criticisms this last season owing to player selections and tactical choices during matches.
But when asked whether he indeed has the public against him, he said: " I don't know the situation about the fans and the media, one is probably the consequence of the other.
"I can only work, try to help my team, play better win matches, I can't do more..."
Sarri's revelations come shortly after Juventus made him their No1 target to replace the sacked Allegri.