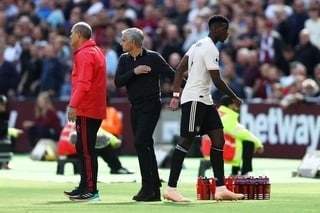 France and Manchester United star Paul Pogba believes he did not focus on his game after claiming the summer World Cup trophy with the Les Bleus in Russia just like club boss Jose Mourinho predicted.
According to a UK Sun report, the Red Devils Portuguese boss Mourinho, who was in Russia during the mundial warned that the Frenchman might not be focused after helping Les Bleus claim their second World Cup silverware.
"I don't think it's about us getting the best out of him. It's about him giving the best he has to give .
"I think the World Cup is the perfect habitat for a player like him to give the best.
"During a season, you can have a big match then a smaller match, then one even smaller, then you can lose your focus, you can lose your concentration, then comes a big match again," Mourinho was quoted as saying after watching France triumph in Russia.
However, since the end of the global football fiesta, the 25-year-old Pogba has been at war with club boss Mourinho.
"It's hard to concentrate, to start again, to hit hard, because we touched the stars.
"For us, it was the best trophy you can win as a footballer," the Frenchman admitted.
The unending saga with the Portuguese tactician, has forced Pogba to consider quitting the Old Trafford outfit, with the pair of Barcelona and Juventus keen to seal a deal.
However, the midfielder, who is now spotting a new haircut, seems no longer interested, in seeking a move away from the Premier League club in January.
"We like challenges too, we have goals.
"For example, I've never won the Premier League, that's an objective. I'd like to do that," the midfielder added.
Interestingly, the Frenchman's row with Mourinho hit an all-time low last month, after a training ground bust-up.
At the end of the day, the Red Devils boss informed Pogba that would never have the privilege to captain Manchester United again.
However, speaking ahead of France's friendly fixture against Iceland and Uefa Nations League showdown against Germany, Pogba stated that he does not need captain's armband to be a leader.
"I've never played in the France team to be captain, being here is already a big thing for me.
"You don't have to be captain in order to speak, a leader is not someone who has the armband.
"As a leader you can talk on the pitch but I've seen leaders who didn't necessarily talk," the midfielder submitted.
On the other hand, Les Bleus manager Didier Deschamps believes the pair of Pogba and Mourinho need to sort out issues, but was quick to add that their recent row was not well addressed.
"I think that (the row) is exaggerated. Maybe you didn't watch the last game because I saw a great Paul Pogba.
"I think that Jose Mourinho saw the same thing as me. Some things happened, and I think that like often, we make a big deal of maybe not so much.
"It's true that there are some facts, and some may have jumped to certain conclusions.
"When I see how Paul behaves towards his current club situation some may say that he's done everything he could mentally and when it comes to his individual performances to help the club ," noted the Les Bleus tactician, who was quick to add.
"There is no issue with Paul. I don't want to be mixed up with anything and to interfere with any player's relationship with their coach," Deschamps summed up.