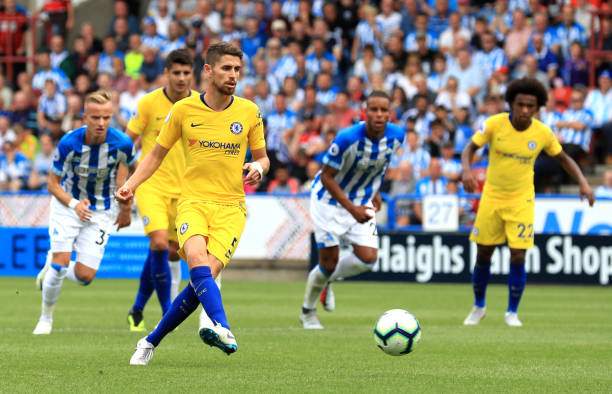 Chelsea star Jorginho has finally explained the major reason he rejected a mega million move to Premier League champions Manchester City and joined their rivals Chelsea.
During the summer transfer, the Italian footballer was reported to have agreed to join Manchester City, but he later decided to join the Blues.
The 26-year-old player has now made it clear that the opportunity for him to continue his working relationship with Maurizio Sarri made him to join Chelsea.
Jorginho spent three years working alongside Maurizio Sarri at Serie A outfit Napoli.
"There are a lot of things behind a negotiation process. I believe Sarri's arrival played a big part on it.
"And there's also the greatness of Chelsea, such a big club. So these factors helped me make up my mind.
"Sarri and I have a pretty good relationship. He's always bantering, joking with me.
"He didn't call me, because he's not the type to be phoning players, but of course, through agents, I knew what his wish was and what kind of work would be put in here,'' Jorginho told ESPN.
Jorginho is expected to be in Chelsea's starting lineups in their match against rivals Liverpool at Stanford Bridge on Saturday.