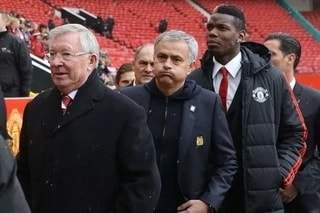 Former Manchester United manager Sir Alex Ferguson previously cautioned eggheads at the club about the antics of Paul Pogba and his agent Mino Raiola.
According to a UK Mirror report, Ferguson was excited to see Pogba leave the Red Devils in 2012 for Serie A champions Juventus.
Moments after sealing the switch away from Old Trafford, Fergie admitted that the 19-year-old Pogba, was already out of United before the deal saw the light of the day..
"Pogba signed for Juventus a long time ago as far as we're aware.
"It's a bit disappointing because I don't think he showed us any respect at all. To be honest, if they carry on that way, I'm quite happy that he's away, from me, anyway," noted the Scot, who guided Manchester United to 13 league titles.
In addition, the Red Devils boss did not forget the Frenchman and his agent in his 2015 autobiography 'Leading' were he dropped a warning for whoever cared to listen.
"There are one or two football agents I simply do not like. And Mino Raiola, Paul Pogba's agent, is one of them," Fergie warned.
Interestingly, four years down the road, current boss Jose Mourinho re-signed Pogba in a world record fee but just after a season at Old Trafford, the French midfielder has cast doubt over his future after another row with the Portuguese boss hit an all-time high this week.
At the last count, Mourinho has removed Pogba as the club's vice-captain following his reactions after Man United's defeat by Derby in the Carabao Cup.
The midfielder, on the other hand, criticized the manager's inputs regarding the club's United's style of play, insisting that the Old Trafford dwellers should be more attack-oriented.
Indeed, with the latest hostile relationship between the pair, it does not look likely that the pair will be at Old Trafford, at the end of the current campaign in May 2019