Yesterday October 15, report of a young lady that got beaten, held hostage and raped by a classmate who she visited in Ghana to learn forex from went viral.
LIB reported that Clement Vanessa Ogechi said in her post that she knew Emusi Clinton a.k.a Successful OG from secondary school where she was the head girl. Things however went sour following her trip to Ghana after they reconnected on Facebook.
Ogechi claimed she found out her classmate was into online fraud and runs a house where young boys are made to work from morning till night on their laptops with the aim of defrauding innocent people online.
However chats shared online by Successful OG's camp, revealed that she knew he was into online fraud and also travelled down to Ghana to learn from him.
A friend to Ogechi's classmate who shared chats between the duo on Facebook, wrote;
"This was how it all happened and not the other way round. This video will explain more to you. I will send screenshot as soon as I can.....and now the guys account has been reported and blocked, but that will not stop the truth from coming out ..... clear conscience fears no accusation."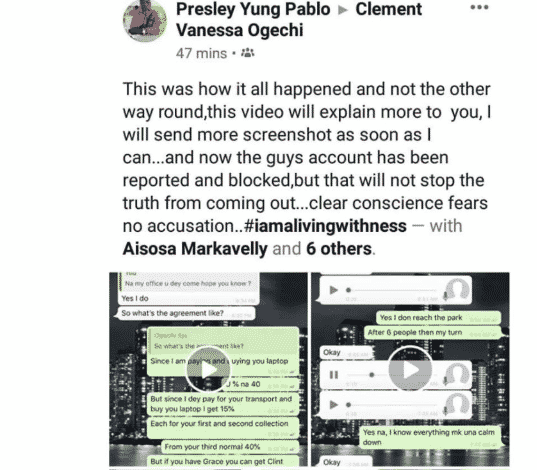 The video was taken down by Facebook but see chats LIB got below;