Adetutu OJ, the model with prominent tribal marks who became popular after she indicated interest to model for Rihanna, has spoken for the first time about a very dark part of her past.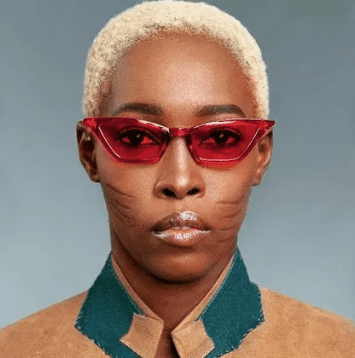 During an interview with LITV, the model said she became pregnant in her teens and was too afraid to face her strict father, so she ran away from home and began to sleep on the street.
Adetutu informed the father of her child and he told her to keep the pregnancy. However, the next time she went to his house, he had moved without leaving a trace or a contact with which to reach him.
The pregnant teen said she had nowhere to go. Relatives and family friends refused to help her for fear of her strict father ao she bega homeless.
She began to wander around, passing the nights in empty shops and sometimes getting drenched by the rain.
Just before she had her baby, she went to the Redeemed Christian Church of God where she saw a banner advertising a foundation for women in her condition. She called the number and it turned out to be a foundation run by Pastor Ituah Ighodalo.
He helped her register for WAEC and she began attending lessons while pregnant. She also sat for the WAEC exams when the time came. When her baby was born, they helped her put the baby up for foster care for 4 years.
After 4 years, when Adetutu was established to an extent, she went back for her child and they now live together.