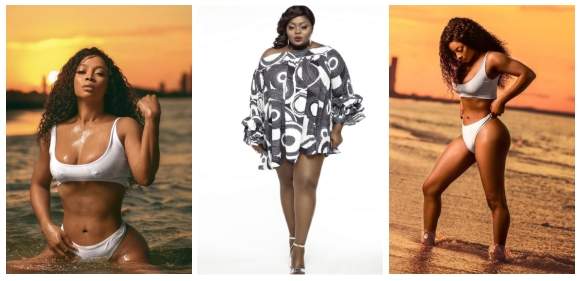 Nollywood actress, Eniola Badmus was dragged into a banter by a Toke Makinwa fan over her comment on a post Tunde Ednut shared about the media personality's birthday bikini photos.
Tunde Ednut wrote on Instagram,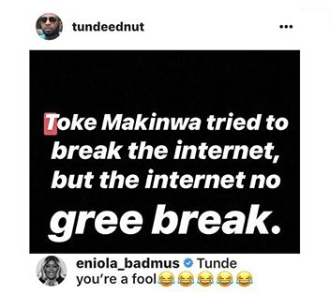 "Toke Makinwa tried to break the internet, but the internet no gree break"
Eniola Badmus' commented "Tunde you are a fool" with laughter emojis.
This response by the actress got the attention of a Toke Makinwa fan, and this made the fan troll Eniola.
The troll wrote,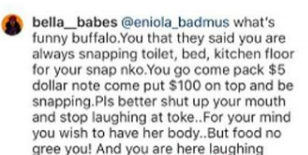 "@eniola_badmus what's funny buffalo. You that they said you are always snapping toilet, bed, kitchen floor for your snap nko. You go come pack $5 dollar note come put $100 on top and be snapping. Pls better shut up your mouth and stop laughing at toke.. For your mind you wish to have her body.. But food no free you! And you are here laughing"
Eniola also clapped back hard at the troll.
She wrote,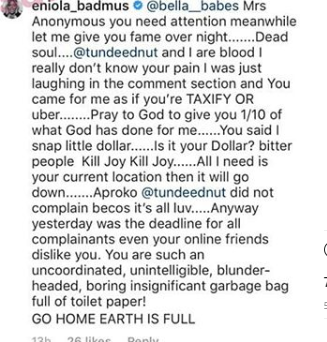 "Mrs anonymous you need attention meanwhile let me give you fame over night......Dead [email protected] and I are blood I really don't know your pain I was just laughing in the comment section and You came for me as if you're TAXIFY OR uber......Pray to God to give you 1/10 of what God has done for me,,,You said I snap little dollar......Is it your dollar? bitter people kill joy kill joy....All I need is your current location then it will go down..... Aproko @tundeednut did not complain becos it's all luv......Anyway yesterday was the deadline for all complainants even your online friends dislike you. You are such an uncoordinated, unintelligible, blunder-headed, boring insignificant garbage bag full of toilet paper! GO HOME EARTH IS FULL"