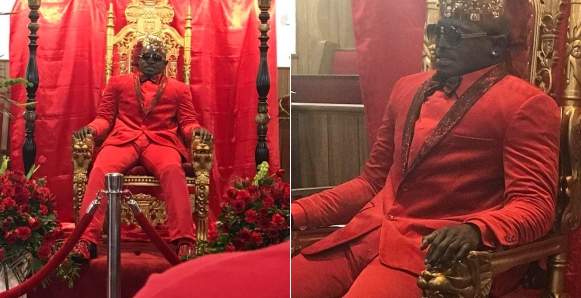 Photos have shown how a man was made to attend his own funeral sitting on a 'throne'.
The man was dressed neatly and made to sit on a 'throne' at the funeral, looking like a king about to address his subjects.
The photos were shared on Facebook by his girlfriend.
"Baby daddy sitting up like tha king he is. Love ya baby" she captioned her post
In the photos, the man identified as Quincy Don Papa P, is seen dressed in a red attire with a crown placed on his head. The ceremony which held in Texas, USA, saw his family and friends in attendance.
Another Facebook user, Nafi Ali, shared photos from the event but had a different mindset.
According to him, if he goes to a funeral and the dead person is not in a casket, he's leaving the ceremony.
The pictures have since gone viral online.
See more photos below.