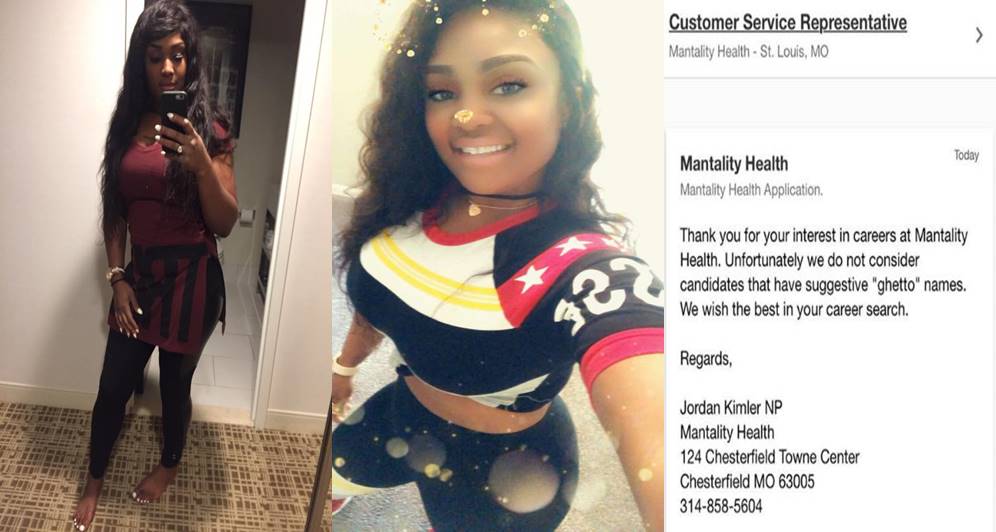 A certain lady simply identified as Hermeisha Robinson on facebook has taken to the platform to raise alarm for an act of discrimination after she was denied a job because of her 'ghetto' name.
Robinson claimed in her post on Facebook that she received an email from Mantality Health denying her of a job she applied for because her name was "ghetto."
Read post below;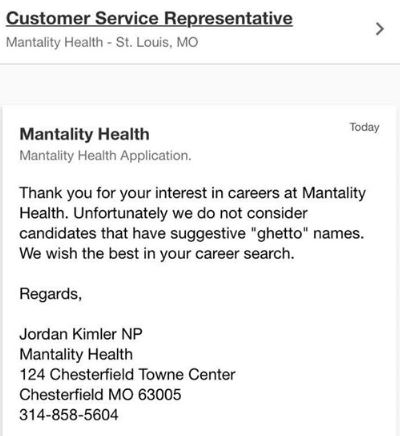 "I HAVE A PUBLIC SERVICE ANNOUNCEMENT I AM VERY UPSET BECAUSE TODAY I RECEIVED AN EMAIL ABOUT THIS JOB THAT I APPLIED FOR AS A CUSTOMER SERVICE REPRESENTATIVE AT Mantality Health I KNOW IM WELL QUALIFIED FOR THE POSITION AS THEY SEEN ON MY RESUME! THEY DISCRIMINATED AGAINST ME BECAUSE OF MY NAME WHICH THEY CONSIDERED IT TO BE "ghetto" FOR THEIR COMPANY! MY FEELINGS ARE VERY HURT AND THEY EVEN GOT ME SECOND GUESSING MY NAME TRYING TO FIGURE OUT IF MY NAME IS REALLY THAT "GHETTO" I WOULD LIKE FOR EVERYONE TO SHARE THIS POST BECAUSE DISCRIMINATION HAS TO STOP!"