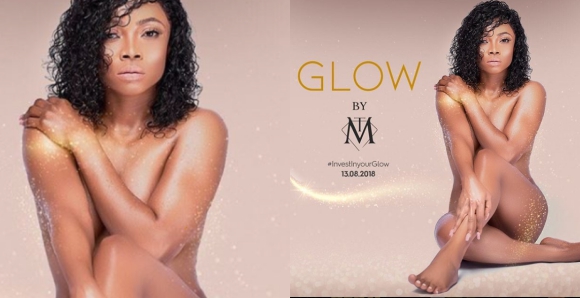 Some fans of Nigerian media personality, Toke Makinwa are unimpressed with her new campaign which sees her completely nude.
Toke Makinwa took to her Instagram page to post a completely nude picture of herself.
She simply captioned the photo:

When you glow there is nothing to hide #InvestinyourGlow13.08.2018 cc @glowbytm
The photo was used to advertise her soon to be launched brand, Glow by TM by glowing unclad.But some fans feel for a 'born again' Christian, she is off line
See reactions below:
Against her;
***that's the problem with us today. We would clearly see our brothers and sisters going astray but instead of cautioning them, we'll keep quiet because it's mainstream and we're all not "perfect". Calling someone to order is referred to as "judging" or "criticizing" because it's their body or their way of life. I'm not judging, I'm just saying we must not preach one thing and do another thing.
*** Non of my business but this clearly is part of the new world demonic agenda to destroy what is left of Africa. They have succeded in eroding african culture, now they are wiping out morals. You probably did this, because Kim, beyonce etc do it and get applauded. But their fabric isnt the same as yours. Theirs have been ripped apart. Don't fall for the deception.
***f there is nothing to hide, why can't I see your pussy, uncultured woman
In support;
*** I don't see anything wrong with this!!! Yes she is a Christian, a grown up woman, and yes we young ladies look up to her.. she is promoting her brand!!! And who are y'all that are judging.
*** Women should be allowed to express themselves whichever way the chose to, this is not been naked in my opinion
See screenshots of reactions: