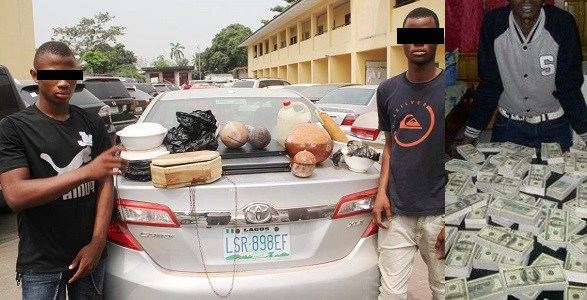 In recent times, Rich Nigerian youths with unknown source of income have become prominent in various communities around Nigeria.
These set of youths live lavishly, wear the latest designers, drive exotic cars and are celebrated often, but they mostly don't have a legitimate source of income.
Most of these guys started with the usual 'Yahoo Yahoo' (Scamming white people), but it seems that isn't just enough and they want it all, so they go through the dark route.
Some call it 'Yahoo Plus' Just recently, 14 Yahoo Boys were caught in the Ajah and Lekki Areas of Lagos by the EFCC, they were arrested and paraded after a tip off about their lavish lifestyle, but no legitimate source of income to back it up.
The were arrested with Luxury cars, Exotic laptops and Charms. The increase in devilish rituals explored by Yahoo boys in their chase for money is becoming rampant
Tough challenges in getting a regular 'Maga' to fund their lust for luxury and an extra comfortable life has encouraged them to give the fear-inspiring medium called Yahoo Plusa try.
Unfortunately, the occultic saviour offering financial upliftment has required 'internet fraudsters' to submit to jaw-dropping evil actions in their paper chase.
We have compiled a list of things fetish wealth seekers have done to get money.
See what Yahoo boys now do in order to keep making money since Yahoo no longer pays without going extra miles.