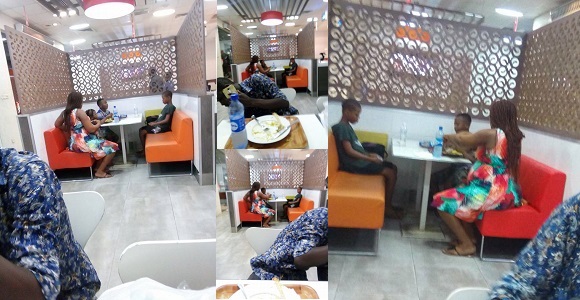 A Nigerian man has taken to his social media page to share the pathetic story of how a woman brought three children to a restaurant and chose to be unfair with one.

Larry Shola was out with his friend on a birthday celebration and while celebrating with his friend, he couldn't help but notice four individuals - an adult and three children - who had some sort of inequity among them.

According to Larry, the adult, a woman brought in these kids and treated one, said to be her housemaid, unfairly - she bought food for two children, her own kids and gave mere biscuits to her housemaid who hesitatingly ate them.

A bewildered and annoyed Larry wrote on his page:

I went out with a friend to celebrate his birthday today and it was fun but something strange happened a woman came in with 3 kids for dinner and she orders for 2 plate of rice and chicken to my greatest surprise one of the kid was left out and was given biscuit to eat by the woman in the presence of the 2 kids while they were eating the rice the little kid was holding his/herself to eat the biscuit and it was such a painful thing to see honestly African women are mostly Evil how much will it cost you to give to someone who probably takes care of this little ones when you are not at home its so painful and annoying no wonder witchcraft will not end in Africa I'm really saddened honesty....

See the photos he shared below: