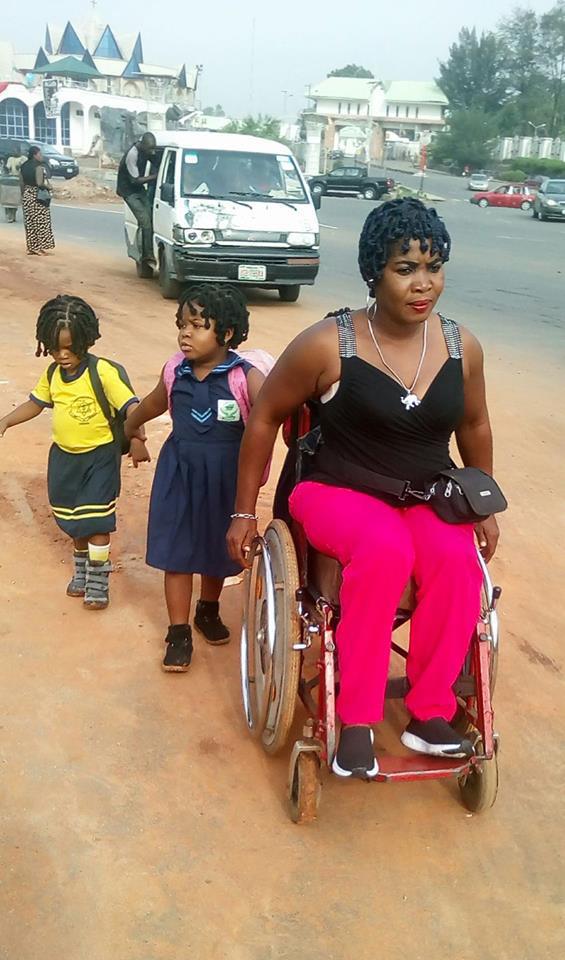 Nigerians have been called upon to come to the aid of the Nigerian woman 
A Nigerian man, Ukachukwu Igboamusi has written a touching story about a physically challenged woman spotted taking her 3 kids to school in Owerri. Igboamusi while narrating the challenges the woman faced revealed that he intends to raise funds for the woman to help lessen her burden.
He shared a photo he took, and wrote: "I stood for about 10 minutes this morning watching this woman and her three kids at government house round about trying to board a taxi going to Owerri city school. One of the child hid at her back in this picture was trying to push her."
"The one that hid at her back and the one wearing blue are twin. Its wasn't easy for her to get a taxi due to her conditions. The taxi drivers may feel that it would be waste of time going to help her in, take her wheel chair into the booth before continuing their journey."
"To me, it would be a very big stress for this woman considering the age of her little children, taking them to school everyday and bring them back. I feel that any help rendered to this woman in taking her children to school everyday would be highly appreciated. No one had the intention of seeing his or herself in this situation but we can't blame her. She need our help both from the government angle, cooperate bodies and individuals."