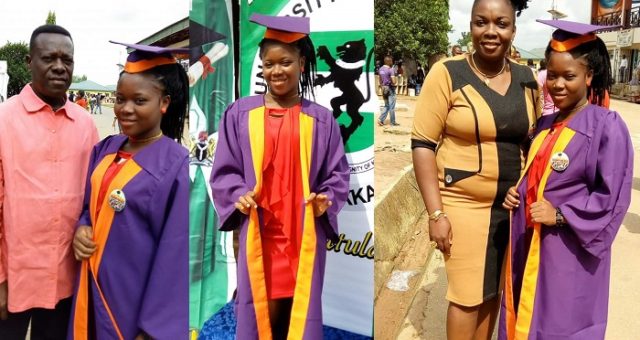 A Nigerian woman, Gloria Ernest Samuel, took to her Facebook page on Wednesday, March 14, to celebrate her housemaid of 13 years, who recently gained admission into a higher institution.

According to Gloria, when she first took her maid years ago, she was at the verge of sending her away because she wasn't effective cause of her age and all but she later reconsidered and now she's happy that she didn't make the wrong decision of holding on to her and grooming her to becoming what she is now.

Gloria wrote on her page,

I am proud of us...

On 17th February, 2005, my husband brought her home as my house help. She was smaller than l wanted. I needed a much bigger girl, but the mum could only allow her as the elder sister was elsewhere.

The only option was to manage her, but managing meant that l had to nurse her as she was too small to even wash her own clothes, the breakable kitchenwares etc.
It wasn't also easy to raise a child with certain orientations.
But l tried. When the task became too tedious,

I packaged her home, but the father gave us a mind boggling question: if she is your daughter, will you throw her away? Please, train her as yours. I want her different.
As stunning as that question sounded, l thank God that l took that challenge seriously and to my heart.
I teach, I scream, I plead, l appeal and l advice...
To make sure she turns out better than she would.
Sometimes, she makes me furious, laugh, cry, and proud, just like now.

From Primary 2, she had gone through to secondary, made her papers, have trained on computer literacy before going for skill acquisition.

Today, she has moved to a higher level. She is matriculating at Alvan Ikoku Federal College of Education, and l am so happy that our 13years together is not a waste after all.

She has long ceased to be a maid in my home.
She is now Aunty's Auntie, my little sister, my children's Auntie. And no one knows she is not my sibling.

Uchechi, today is the beginning of a new life for you.
We are happy for you. Sky is your jumping pad.
We pray that you graduate with flying colours. And we continue to pray for financial breakthrough so that you do not suffer any stress concerning your education.
Congratulations, dear. We are super proud of you.

More photos below,