A man identified as Tony Obike, took to Facebook to wish his daughter a happy birthday, but the girl's mother replied blasting him for pretending online to care about his daughter when he hasn't seen her in months and doesn't provide for her.

Tony Obike showered his daughter with love yesterday as she turned 5. He also promised to be with her every step of the way and help in fulfilling her dreams.

In his words; To my future rock 'n roll superstar, my future dancing queen, my future YouTube sensation, my future cardiothoracic surgeon, my future Cirque de Soleil trapeze artist, and my future Nobel Peace prize winner, a happy, happy 5th birthday! I want you to know that whatever your dreams are and wherever your dreams will take you, I will be with you every step of the way. You have my 100% support. I love you so much, now and forever.... Happy Birthday Sweetheart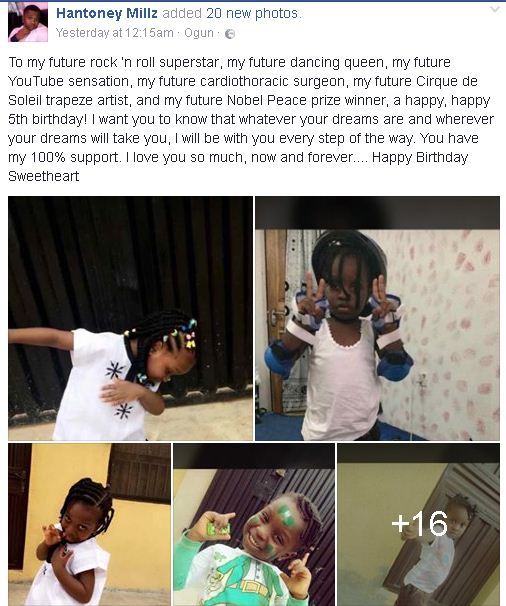 However, in a stingy and fact-checking reply, the child's mother, Eneregha Okoro Bike Neko called him out for pretending to be a part of the child's life when, in reality, he's an absentee father. She added that the award for worst dad goes to him.

Her words; Now seeing this post everyone would think you really care about the so called daughter u post her pictures !!!! Wishing her a happy birthday telling her u will be there to make her be whatever she wants to be what a Big ass Liar Mhen you are just a disgrace !

It's been more than ow many months now u never showed up to see the girl.

You are always broke and never have money to send to her for food or upkeep.

You couldn't even call to wish the so called Rock n roll star a Happy birthday nor send your greetings but instead u come on here faking what is not for people on social media and they are here now thinking you aren't the best father in this planet.....Taking Glory for what you didn't provide for abi ??????

Now take a sit and look at it yourself

Do you think you would ever make heaven ??? Please put down this post bcos the award to the worst Dad goes to You Hantoney Obike Ndubisi

If u think u can block me not to post with my account then I guess this is another hit back to back