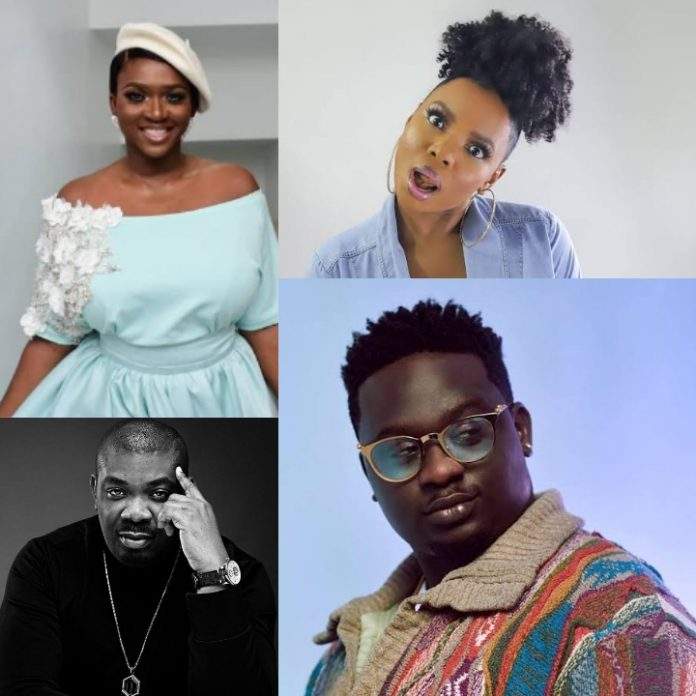 Much of the music made in Nigeria, especially mainstream music is always mostly about the beats with very little attention paid to vocals. A quick recipe for cooking up a hit song around here is that artistes focus 70% of the time on the quality of the beat while other ingredients would take the back seat. Yet again, nobody pays attention to the voice component of a song.
Over the past few years, there has been a decline among musicians who take out time to give fans music which rides solely on vocal dexterity. In spite of the decline there are are few who still have an excellent mastery of their vocal skills and still put it to use.
We hope to highlight these endangered species of Nigerian musicians who can still work magic with their voices, the few whose voices can give you goosebumps.
1. Waje
If there is any Nigerian musician that can sing-sing, it has to be Waje. She has the best vocals in the industry hands down. The singer who hails from Edo State is such a delight to watch during a live performance, her vocal range is enviable. These days she might not be the toast of the town but she still got it anytime she handles the microphone to sing. Her debut album 'W.A.J.E' is easily a classic worth checking out any day.
2. Wande Coal
First of all 'Nobody be like Wande Coal'. Besides Waje who comes first on the list, there really isn't anyone male or female who can rival Wande Coal when it comes to vocal dexterity. The Black Diamond boss has proven himself over and over again and he still does on a very good day. He has a long string of hits that were reliant on his vocal capacity. He can reach down low or pitch a high note with some fantastic riffs and runs when necessary. Vocally speaking Wande Coal is a king.
3. Omawumi
The Idols West Africa 1st runner-up, Omawumi Megbele is one fantastic artiste we do not often appreciate enough. She might not be enjoying the spotlight as she used to some 6 - 7 years ago but then her talent has not left her. Omawumi mostly performs at high profile society events where she puts her vocal dexterity on display. The most authentic way a musician proves his musicianship is when they perform live on stage with a band, at this point you will always appreciate the talent Owawumi is.
4. Chidinma
When it all boils down to the artiste, the microphone and an ample stage, one person you can count on is the petite singer Chidinma. She has always had a fantastic voice from her days from MTN Project Fame West Africa. She was easily top three female Nigerian artistes during the early days of her music career because she got it all at the time, the looks, media appeal and obviously the voice to back it up.
5. Praiz
If there is any Nigerian artiste who has been very consistent in churning out songs that rely heavily on vocals then it has to be Praiz. From the 'Rich & Famous' days to songs like 'Folashade', '69', and his most recent project 'To The Moon' EP, Praiz's velvet voice shines through whether he is making an R&B or a pop tune.
6. Timi Dakolo
The Accra-born Nigerian singer has one of the most unique male voices in Nigeria. Timi Dakolo has a lean discography when compared to his other counterparts on the list, however, he has been able to make some evergreen songs. When it comes to music craftsmanship Timi is one guy who understands the ethics of it all. This and many more would be the reason he was a judge on The Voice Nigeria for as long as the show lasted.
7. Yemi Alade
When the debates about vocal range and dexterity come on, Miss Yemi Alade always comes top among some of her female contemporaries as well as the male. For the purpose of being commercial with her music, Yemi Alade conveniently abandons her vocal skills to appeal to the demand, she rarely flexes those vocal cords of hers. However, she is a thorough singer with plausible vocal capabilities, her live stage performances are amazing, then you get hear her sing. Most recently she performed for the Global Citizen's "Global Goal: Unite for Our Future" and it indeed a proud moment for us.
8. Johnny Drille
John Ighodaro professionally known as Johnny Drille has this unique voice that sets him apart from his contemporaries. He has been fondly referred to as the Nigerian Jon Bellion because of the texture of his voice. Johnny Drille isn't about hitting high notes and making beautiful adlibs but he has that rich baritone he uses skillfully.
9. Simi
The Nigerian songstress has a lovely thin voice that makes every song she makes instantly appealing. She is about the only female Nigerian artiste with that vocal range she wields gracefully. Her voice has made the difference on some of the collaborations she has featured on like Falz - 'Soldier', Ladipoe - 'Know You', Adekunle Gold - 'No Forget' etc.
10. Don Jazzy
It is amazing that one of the best voices in the Nigerian music industry isn't actually a singer. Don Jazzy has been killing it with his voice for many years in the Nigerian music industry. His bass voice has spiced up several Nigerian hits songs from the Mo'Hits days to the present Mavin Records. He has blessed songs like 'Now Is the Time' with Ikechukwu, 'Surulere' with Dr Sid, D'banj 'Mr Endowed', Timaya 'I Concur', PSquare 'Collabo' etc. The music mogul and music producer doesn't have any official single to his name but he has shaped the Nigerian music with his voice over the years.
- Curated by Jaguda