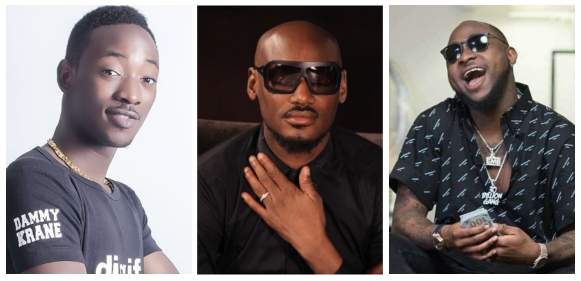 For the first time since his arrest, trial for credit card fraud and subsequent acquittal in the United States, Nigerian pop star Dammy Krane is revealing those who stood by him during the ordeal and many fairweather friends who abandoned him at the time.
In 2017, fans were shocked when news of his arrest became public and many mocked him for struggling to live like a "baller". All through, he maintained his innocence, claiming that it was a mixup by a promoter who booked him on a private jet flight with a bogus credit card.
While speaking with Net, he expressed his relief that he wasn't found guilty as many feared he would. "Even till day, I just keep thanking God that I didn't suffer for what I didn't do," he said as we put the question to him. "A lot of people were there for me in the past. But some of my friends abandoned me too. But I won't mention names, it was tough, But God was on my side. People like 2Face and Davido and I just want to say thank you to everybody, keep supporting Dammy Krane."
He also denies that his fascination with money and luxurious living may have made him befriend people of shady character. 'I don't have any fascination with money. It's just how it is, everybody loves money and wants to make money. And my new song, Amen is just a song of hope, " he says.
Adding that all he's concerned about these days are his family members. "Right now, I have a priority equation. Everybody is my friend, but I have a few family and fans whom I hold dear to my heart."
However, he's not unmindful of the role of his former label boss, 2Baba who signed him to Hypertek Records in 2012. Having admired the pop legend for many years, he was gratified to have learnt directly from him during their time together. "Everybody sees the inside and outside of 2face, but I have seen the inside. You see, on the internet, you will only see someone's success, not their failure, and I have actually learnt a lot from 2Baba and one thing I have learnt from him that you can't live a Champagne lifestyle with a beer income."
Reliving what happened on the day he was arrested, he said "I was afraid of what was going to happen, but I knew God will not let me down because I was innocent. Somewhere at the back of my mind, I knew that God was preparing me for something great. After the whole experience, I had a vision and God told me that I should remain prayerful and loyal to him and I will remain number one, and I believe I am still number one. In fact, it has started showing already, Go Down and Amen are topping different chats."
He also touched on his relationship with Sinzu, the rapper formerly known as Sauce Kid who actually served jail time in the US for a similar case. As a result of their closeness, many fans assumed Sinzu inspired him to embrace a life of crime. "'Saucekid is not a bad influence on me. I was only influenced by his music and nothing more, if I was influenced by his way of life, I would probably have a tattoo, which I don't., you can't scratch a Bentley, The thing is that people follow all the things they see online, if someone just wakes up and says someone is a thief, everyone automatically thinks you are a thief, a lot of people just believe anything."
He ends the chat by accepting his own imperfections and continuous self-evaluation. "Nobody is perfect, everything we all go through is to learn a lesson when life throws you a lemon, you make a lemonade out of it. I think that was my situation, and God was preparing me for the next stage of my life."