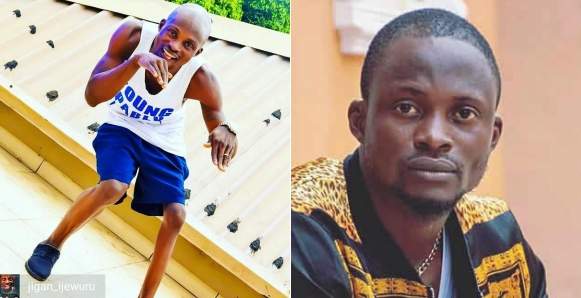 Actor, Kazeem Abimbola, aka Jigan Babaoja, was involved in a social media war of words with a fan over a skit the actor posted. The fan in their exchange of words slammed Jigan over the deformity in his leg.
Speaking on the issue, Jigan told Sunday Scoop; "There are some people who always want to bring somebody down when they see you rising. The guy in question did not tell the true story; he edited our chats before he posted it online. I uploaded a skit some days ago and shortly after, there were different comments that attacked me, saying it was rubbish.
"From experience, I have learnt that if I let those comments go unanswered, some people, who might want to do business with me, would be discouraged by the negativity. The same guy continued attacking me with direct messages. Immediately, I told him that he would not prosper because he was trying to spoil the good work I was doing to improve my brand. If 80 per cent of the world appreciate me, then I don't care about the remaining 20 per cent who don't like me. It is normal, as not everybody can like you. The more people talk about me, the more followers I get online. Since this particular issue, I have gotten over 1000 new followers on Instagram."
Jigan added, "I have been handling abuses about my disability since I was a 10-year-old. Even recently, I have been making jokes of my disability; it doesn't get to me because I'm used to it. Somebody sent me a message last week that he wanted to take me out of the country for a surgery so that I would be able to walk properly. However, I told the person that I was not interested. I like the way I am right now because this disability has paved the way for me. Had it been I am a 'complete' person, I may not be where I am today."
Highlighting some of the benefits he has gotten from the Sho mo Age mi trend, Jigan said, "I recently released the movie, Sho mo Age mi, and the reception has been awesome. A lot of people such as Broda Shaggi, Josh 2 Funny, Woli Arole, among others supported me. I have gotten a lot of benefits from the Sho mo Age Mi trend, even beyond connections. It has opened a lot of doors that I never imagined could be opened in the next 30 years. It has also increased the number of scripts that I get and it has given me more opportunities to feature in English movies. Right now, I do more of English movies."
On thoughts that he may be forgotten after the Sho mo Age Mi trend fades off, Jigan said, "I have done several skits after Sho mo Age Mi. They include I live in Belgium, You will not eat anything, I lost my car keys, among others. All those skits were well received and people had positive comments about them. I have been getting messages from overseas from people who want to work with me. It is not everything that happens to me I put on social media."
On pressure from females; "I like a woman that does not run away from me. it is always good to get married before you become very popular because once you are big, a lot of people would come around you and you wouldn't know their real intentions. I've gotten a lot of messages from girls who tell me that they like me but I don't give them attention because I know they're only attracted to my fame. Everybody knows I'm a married man with kids. Anybody that comes now is just wasting her time. My focus now is to make money."