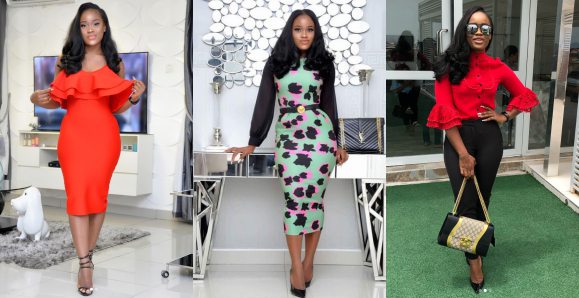 Cee-C who was one of the celebrities that turned up for 'Trace Live Presents Becoming Falz The Bahd Guy' event, is currently trending on social media after she curved some beard gang members.
The beard gangs who approached the reality show star over an undisclosed reason, were left at their spot by Cee-C who jokingly waved them off.
Here is the video below;
On the other hand, Cee-C and Leo have sparked a romantic relationship rumor following 'romantic videos' updates and posts they've shared on social media. Few days ago, Cee-C penned down an emotional piece for Leo on his birthday, and also organized a surprise dinner with his family and friends for him on Tuesday night.
Acknowledging her, Leo took to his Twitter page, writing "Alright, so everyone knew I didn't want to celebrate my birthday but Cynthia decided to call my family and friends. She basically did a surprise birthday dinner for me. Wow.
"E still dey burst my head. This is the first time anyone has done a surprise thing for me."
Also, a romantic video and pictures of both housemates at the birthday dinner sparked reactions from Nigerians online. Here are some comments below;
@Prettyluthie1 "I really can't say if it's real love or to make Alex unhappy. Whichever way I Hope they know what they are doing."
@Bameel1 "She has learnt a lot of lessons in biggy house thus making her a sweet wife material. She is too adorable."
@EuniceIbukun "She is a sweet lady, guard her heart @Leodasilva"
@Lanyoni_ "It's the least she could do, Leo you were the only one that was really with her in the BBN house, you stuck by her and never judged her not even once. You're a real man."
@Elorm_ "Am very emotional right now @SirLeoBDasilva my little sis is happy Finally. All the hate and cyberbullying. She has you now. "
@Barak1936 "Of course Leo a king is supposed to take care of his queen if at all there was a surprise birthday and not planned surprise birthday lol....the king being @ceec_official and the queen being @sirleobdasilva."